Get to know Valladolid
Valladolid's offer in terms of cultural and sporting events is unparalleled. That together with its impressive historical heritage would be enough to take a tour around the city in a rental van, but its five appellations of origin make the capital of Castilla y León a reference in the wine tourism sector.
If you want to promote the wines of this land, for example, nothing more practical than storing the boxes in one of our rental vans when it comes to meet orders. There is no corner of the city that our vans and minivans cannot take you to.
Are you from Valladolid and finally have your own home? Do you move often for work and don't want your transfers to become a constant nightmare? Is your van in the workshop just when you need it the most and you haven't been given a replacement vehicle?
You can never be sure when or why you will need to rent a van. What we can guarantee from Furauto without fear of being wrong is that our vehicles will never fail you.
Contact our offices in Valladolid by phone or through the Internet. It has never been so easy to rent a van in Valladolid. You will be enormously satisfied with the load capacity of our vans and minivans as well as with its dimensions and its easy handling when driving around town and parking. Make Furauto the inseparable companion of all your transports!
Van rental offices in Valladolid
Pick up and drop off your Furauto rental van comfortably at various points in the capital, such as the train station or the Valladolid Airport, located in the municipality of Villanubla. You can also choose from many other locations in Castilla y León such as the following:
Ávila
Burgos
León
Palencia
Ponferrada
Salamanca
Segovia
Soria
Visiting Valladolid
Valladolid is one of the great unknowns of Spain, but its historical-artistic heritage is worth contemplating. Inhabited by almost 302,000 inhabitants, it was the capital of Spain under Charles I, a title it held again during the first six years of the 17th century. Valladolid was also a pioneer of journalism in Spain. El Norte de Castilla was founded in its streets in 1854.
This is one of the most important cities in the autonomous community of Castilla y León. In fact, Valladolid is the seat of the Cortes and the Junta. It is also a perfect place to visit in several days or to start a route through the northern part of the country, and paying it a visit with a Furauto rental van is a piece of cake!
In the capital of Valladolid you can enjoy the Royal Sites, a term that includes the Royal Palace and the Palace of Pimentel, which currently houses the Provincial Council building. Also worth visiting are the Campo Grande, the Plaza Mayor, the Cathedral of Nuestra Señora de la Asunción and the churches of Santa María de la Antigua and San Pablo.
Valladolid is also home to the House-Museum of Miguel de Cervantes (current seat of the Royal Academy of Fine Arts), of José Zorrilla (home where the poet was born and lived) and of Christopher Columbus (replica of his palace in Puerto Rico). Typical Valladolid dishes include suckling lamb, suckling pig and roast kid. Sheep cheese is also typical of the area. Entrepinares and Flor de Esgueva are two of its most famous brands. The province also produces wines belonging to five Denominations of Origin: Ribera del Duero, Rueda, Cigales, Toro and Tierra de León.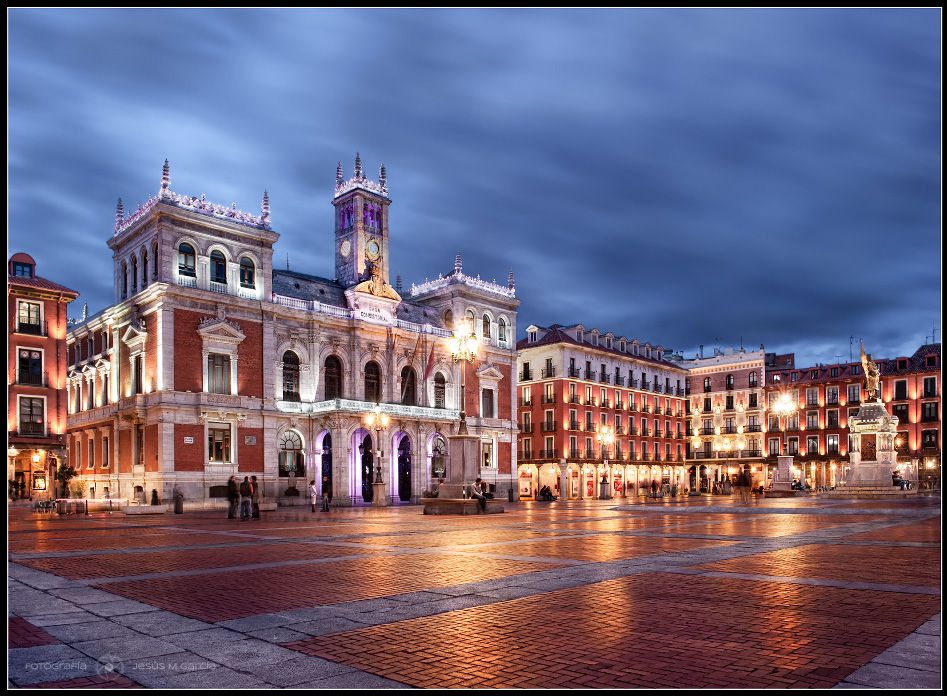 Get to know the city of Valladolid
Travel around the province of Valladolid thanks to your Furauto rental van. An ideal opportunity to travel in the company of family or friends saving money on gas and tolls:
Íscar
43 kilometers separate the capital from this small town of just over 6,500 inhabitants. Located in the region of Tierra de Pinares, it is home to El Humilladero and the churches of Santa María and San Miguel. Its most outstanding monument is the Castle of Íscar, currently used for the production of the beer "La Loca Juana".
Medina del Campo
You will need almost 45 minutes to get from the capital to this town of about 20,700 inhabitants. Drive your rental van along the A-62 to the town of Tordesillas. Once here, connect with the A-6 to enter the third most populated city of Valladolid. Medina del Campo offers the possibility of visiting the Collegiate Church of San Antolín and the Castillo de la Mota, declared of Cultural Interest in 1904.
of Cultural Interest in 1904.
Simancas
This town of 5,200 inhabitants is about 13 kilometers from the capital. To make this trip, you must drive your rental van along the A-62 southwest for 15 minutes. Here you will discover the Simancas Castle, current seat of the General Archive of Simancas.
Tordesillas
The A-62 also connects the capital of Valladolid with Tordesillas, a town famous for celebrating every year the controversial Toro de la Vega Tournament. After the trip, which will take about 26 minutes, you can enjoy its Plaza Mayor, the Bridge, the Wall and the Monastery of Santa Clara.
Urueña
Although only 1,189 Carrasqueños live in this small town, the locality offers a wide range of historical and artistic attractions. Urueña, the only Villa del Libro in Spain, is home to a 12th and 13th century wall, a castle, the Church of Santa María del Azogue and the Hermitage of Nuestra Señora de la Anunciada.
Main municipalities of Valladolid
Aldeamayor de San Martín
Olmedo - Enconmienda Stream
Pedrajas de San Esteban
Boecillo
Peñafiel
Cabezón de Pisuerga
Renedo de Esgueva
Cigales
Santovenia de Pisuerga
Cistérniga
Simancas
Íscar
Tordesillas
Laguna de Duero
Tudela de Duero
Medina de Rioseco
Valladolid - Medina del Campo
Zaratán
Exploring the roads of Valladolid
Both traditional road guides and those that can be found on the Internet are invaluable when it comes to getting an idea of how to get to a new city behind the wheel of a van or any other vehicle.
However, in Furauto we will provide some brief notions about the roads leading to Valladolid to give our customers a complete service:
The A-6: This road connects Valladolid with Madrid.
The A-66: It reaches Valladolid from the province of Cadiz.
The AP-1: This highway allows us to go to Valladolid linking with the A-62.
The A-52: Ends in Valladolid from Oporto.
Calling the tow truck in Valladolid
In Furauto we know how important it is to be able to go without delay to the towing service of the locality in case the vehicle you drive has a problem that prevents the continuation of the trip or move. Here are a few companies specialized in towing and vehicle assistance in Valladolid so that our users are prepared for whatever may happen:
Tinlohi: This company has a very varied offer as it assists vehicles of all types including cars, motorcycles, vans and coaches. Contact telephone numbers are 983401667 and 619468116.
Alberto Martín Galindo: The telephone numbers of this roadside assistance towing company are 608788530 and 983780203.
Local gas stations
When moving and transporting goods and household goods, fuel consumption tends to be somewhat higher than usual as the vehicle carries more weight due to the extra load. To make filling the tank even easier we include some gas stations in Valladolid:
La Arroyada Service Station: It is on the N-601 at the height of Alcazaren. Telephone: 983609147.
Pinos del Raso: Gas station on the N-601 as in the previous case. It is an official distributor of Repsol in Pedraja de Portillo. The contact telephone number is 983553061.
Heprasa: It is located on the road from Burgos to Portugal. At km 117 of the A-62. The information telephone number is 983338633.
Alternatives for parking in Valladolid
The decision to leave the van in one place or another in Valladolid is not always easy. Not blocking the way when emptying the back or simply avoiding a long distance between our rental vehicle and the place where we have to take our things are some of the points to take into account.
From Furauto we have chosen some parking lots so that our users are well informed about where they can go if necessary:
Isolux Corsan Aparcamientos S.L: It is located in the Plaza de Portugalete. It has 258 parking spaces. Interestingly, it has an elevator. On the other hand, there are spaces reserved for the disabled, electric car recharging and toilets. The maximum height allowed for vehicles is 2.20 meters. It is open from Monday to Sunday. Its price for 24 hours is 18.50 euros.
Plaza de España: As you can guess, it is located in the Plaza de España in Valladolid. This subway parking has 281 public parking spaces. It is open from Monday to Sunday. Its price for 24 hours stay is 18,40 euros.
Poniente: This parking lot is quite affordable. It is located at Paseo Isabel la Católica, 11. It is open Monday, Wednesday and Sunday from seven in the morning to three in the morning and all day on Thursdays and Saturdays. Its price for 24 hours is 12.50 euros, although this amount must be paid after the first ten hours of stay.
Plaza de Colón: It is located in Calle del Estación del Norte. It is a subway parking with elevator and toilets. Its services include recharging for electric cars and reserved spaces for motorcycles and handicapped persons. The maximum height of the vehicles is 2.10 meters. It is open from Monday to Sunday. Its price for 24 hours is 12 euros.
Paseo Obregón: Here we have an uncovered and free parking. Electric car recharging is available.
Calle India: Here is a perfect parking to leave our vehicle just for a few hours. It is open from Monday to Friday from nine to eight in the evening and on Saturdays from nine in the morning to two in the morning. The price is 30 cents per hour, although there may be variations depending on the time of day. There are no height restrictions and it has a recharging service for electric cars.
Calle de los Doctrinos: This subway parking lot is open from Monday to Thursday from 6:30 am to 2 pm. From Friday to Sunday it is available all day. Its rate for 24 hours is 13.50 euros. It should be noted that the maximum height is set at two meters. Recharging is available for electric cars. The payment method is cash.
Fight against fatal accidents on the road
The increase in traffic accidents on some of Spain's roads is a fact of great concern in our society. In Valladolid events have been organized to pay tribute to the victims who have lost their lives in traffic accidents.
From Furauto we support awareness measures to help cities and roads are safer places for drivers and pedestrians. Getting behind the wheel of a vehicle is serious and should be done in the best conditions trying to make stops on long trips and avoiding distractions however small or insignificant they may seem.