Get to know Madrid with a rental van
Madrid is a fascinating city full of activity. Whether you are going to visit it for pleasure or for business, renting a van in Madrid with Furauto can be one of the best options to move freely from one point to another of the capital without worrying about where to leave your luggage or your business goods. A good van is the most comfortable solution to your transportation problems!
When it comes to moving products in certain quantities or heavy machinery, means of transport such as train or bus are not a viable option. Taking your own van will allow both freelancers and small and medium enterprises to optimize time and money during any of your trips, and in Furauto you will find the best van rental offer in Madrid!
Our range of vehicles is very wide and varied so that the user can choose without the slightest difficulty the van or car that best suits your needs of the moment. A move, a family outing with the kids, a business trip or just enjoy the pleasure of driving discovering new cities ... anything goes.
In Furauto we want to make things easy for you to reach your destination without incident. You don't need to know Madrid inside out to take advantage of our services. Ask us and you will know that we always have an office near you for anything you may need.
Where to pick up and drop off your rental van in Madrid?
Besides being the capital of Spain, Madrid is the best connected city in the country. Thousands of people arrive daily at the Adolfo Suárez Madrid-Barajas Airport to enjoy the culture, gastronomy and leisure offer of Madrid. For this reason, Furauto also has offices in this airport and in other relevant municipalities, in addition to the Atocha Station, the most important in Spain.
These are some of the places and municipalities where you can pick up and deliver your Furauto vehicle:
Barajas Airport
Las Rozas
Alcalá de Henares
Leganés
Alcobendas
Madrid City
Alcorcón
Majadahonda
Campo de las Naciones
Móstoles
Collado Mediano
Pinto
ColladoVillalba
Town of Barajas
Coslada
San Sebastián de los Reyes
Atocha Station
Torrejón de Ardoz
Fuenlabrada
Tres Cantos
Why visit Madrid?
Because Madrid is one of those cities that you should enjoy at least once in your life. In addition to hosting three of the most important art galleries in the world (the Prado Museum, the Museo Nacional Centro de Arte Reina Sofía and the Museo de Arte Thyssen-Bornemisza), Madrid is a city with a great historical and artistic heritage.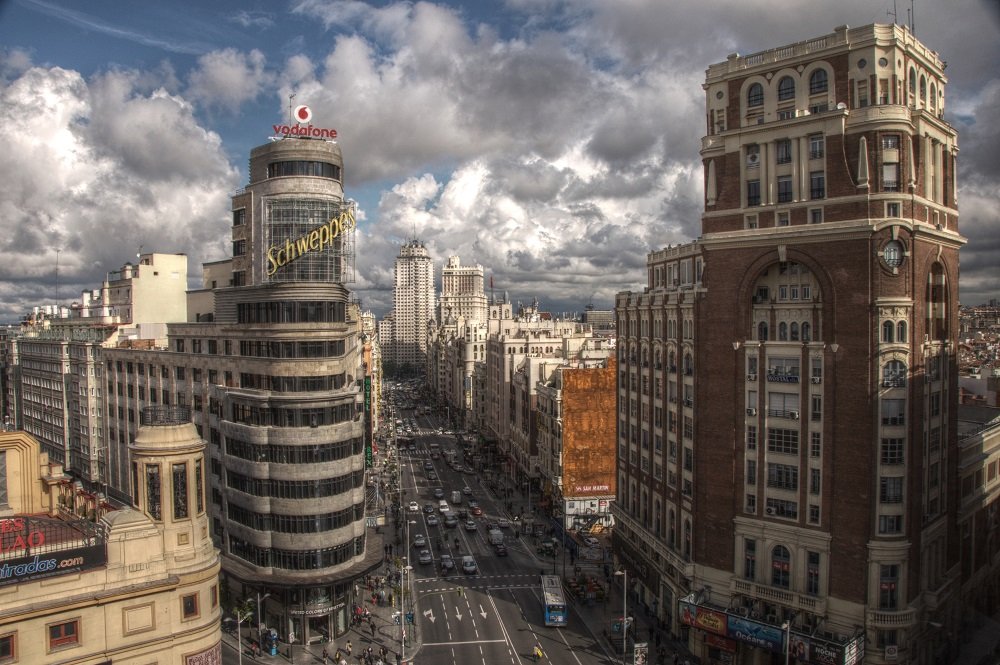 Do you like shopping? Depending on your purchasing power, you can spend money in El Rastro or in the Barrio de Salamanca. In addition, it is a perfect place for lovers of good food.
Don't leave without trying a cocido madrileño or without having tapas in La Latina or Lavapiés.
And, as if this were not enough, in Madrid you can enjoy some of the best plays and musicals in the world. Walk along La Gran Vía and choose the performance you like the most.
Get to know the community of Madrid
The capital of Spain is one of the most beautiful cities in the country. In addition, it has a wide range of artistic, historical and patrimonial offerings. However, this is not the only thing that the Community of Madrid has to offer. Drive your Furauto rental van to other interesting municipalities:
San Martín de la Vega
Although this town does not have a great cultural attraction, it has the luxury of hosting the Warner Park. Drive along the A-4 for 35 minutes from the capital and enjoy Bugs Bunny, Tweety or Superman.
Chinchón
Its wonderful irregular square is well worth a visit. In just 45 minutes it is possible to reach this small town, which will be waiting for you with an enviable gastronomy.
El Escorial
A visit to the Monastery of San Lorenzo del Escorial is a must. This complex, which served for years as the residence of the Spanish Royal Family, was ordered to be built by King Philip II in the mid-sixteenth century. Do you want to visit this architectural wonder? Then take the A-6 until exit 18. Then continue along the M-505.
Aranjuez
This municipality is home to one of the Royal Sites of the Spanish Crown. This was determined by Felipe II in 1560. Visit its palace and gardens and let yourself be enraptured by the town that inspired the Maestro Joaquín Rodrigo in the composition of his most famous concert. Do not leave without tasting its tasty strawberries.
Main municipalities of the community of Madrid
Alcalá de Henares
Leganés
Alcobendas
Madrid
Alcorcón
Majadahonda
Aranjuez
Móstoles
Arganda del Rey
Las Rozas
Collado Villalba
Navalcarnero
Colmenar Viejo
Parla
Coslada
Pinto
Fuenlabrada
San Lorenzo del Escorial
Getafe
Torrejón de Ardoz
Main access roads to Madrid
As it could not be otherwise the capital of Spain is one of the best communicated cities. Knowing the national roads is highly recommended to avoid getting lost with your rental van in the maze of roads that run throughout the city. Of course, the description that we will make here is quite brief so we strongly recommend to get a road guide to have the information always at hand.
The A1 or Autovía del Norte: It communicates with the Sierra of Madrid.
The A2 or Autovía de Aragón: It is the most effective way to get to Barajas airport.
The A3 or Valencia Highway: It allows to reach places such as Murcia, Albacete or Alicante.
The A4 or Autovía de Andalucía: Connects with the South of Spain.
The A5 or Extremadura Highway: It goes to the Portuguese border.
The A6 or Autovía de A Coruña: It is important to note that this road has a reversible lane in the vicinity of Madrid, which depends largely on traffic flow.
The radials 3 and 5 are toll highways that connect with the A3 between Arganda del Rey and Sillarejo de Salvanés and with the A5 between Navalcarnero and Valmojado. The first of the toll sections is between the M40 and the M50 and the second between the M50 and the relevant highway.
Parking in Madrid
Perhaps the search for parking is one of the most common headaches when moving around Madrid with a rental van. How from Furauto we are aware of it here is a list of some of the most affordable parking lots in the center and surroundings:
Parking La latina: Located at Calle Toledo 88 is available 24 hours from Thursday to Sunday. The price per day is just under twenty euros.
Parking Aparca&Go Estación de Atocha: Located in the Hotel AC Atocha at Calle General Lacy, 9. The price per day is 14.95 euros although it is reduced from the fourth day.
Parking Lumita in the Barrio de Salamanca: Calle Ferrer del Río, 14. It costs 15 euros per day.
Parking Puman in the Chamberí-Moncloa neighborhood: Calle Andrés Mellado 64. The price per day is 18 euros.
Parking Dávila in the Chamartín-Tetuán area: Calle Hernani 23. The price is 20 euros per day.
Parking Funciona Motor near Prosperidad: The price per day is 16.50 euros.
Parking at Hotel Barajas: It is especially practical as it is close to the airport. Its price is 10 euros per day.
Excursions by car in Madrid
If you and your van have become inseparable after a hard day's work, give yourself the whim and discover corners of Madrid that would be more difficult or laborious to access using other means of transport. Here we leave you a proposal with historical airs in case you want to take advantage of your vehicle for something more than a transfer of goods: the Valley of the Fallen or San Lorenzo del Escorial.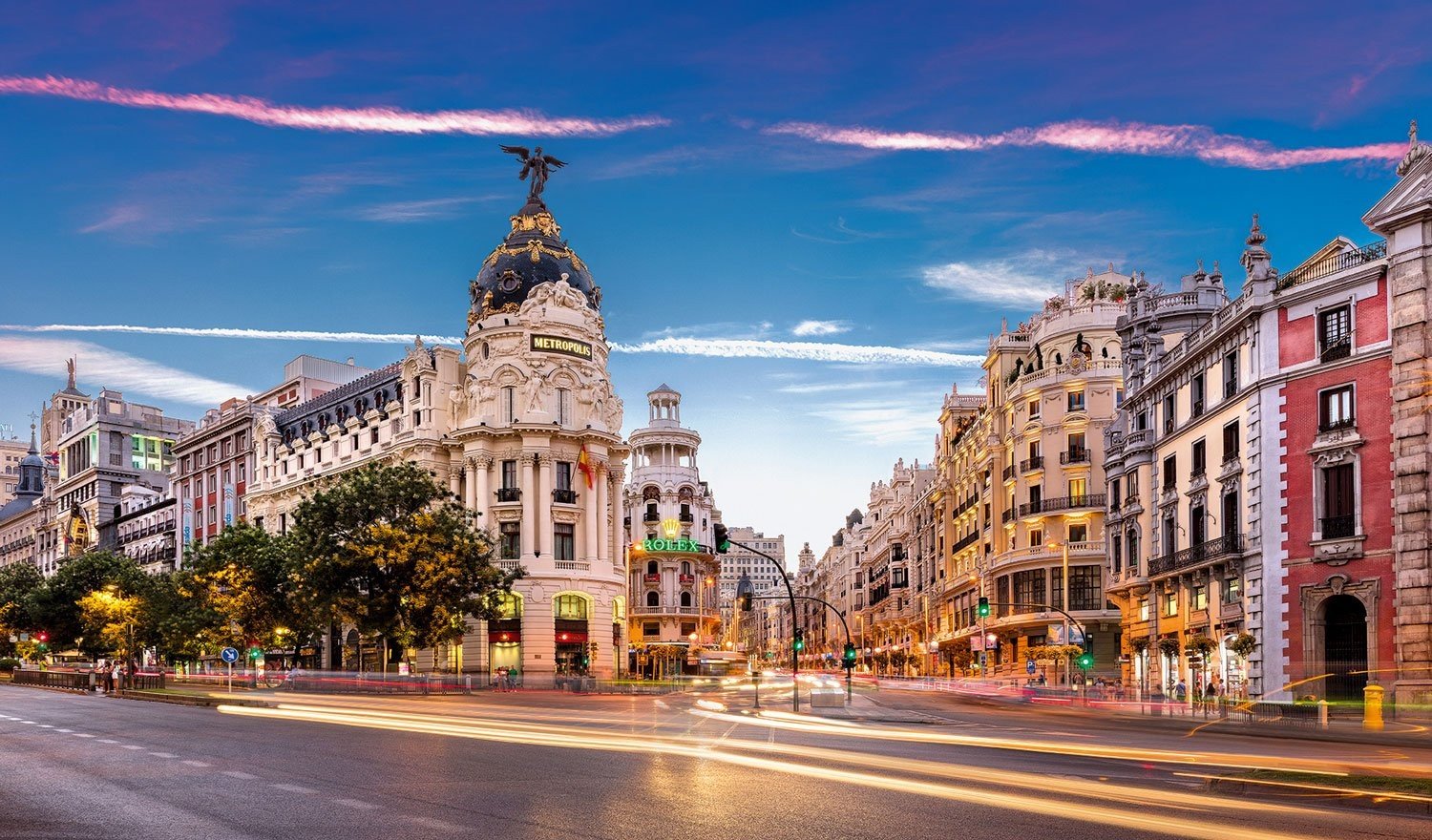 On the one hand, the cross of the Valley of the Fallen is so impressive from the road that it is worth driving there just to take a look. Everything related to the Spanish Civil War arouses great tourist interest.
And as far as the Escorial is concerned, this fantastic monastery has been declared a UNESCO World Heritage Site in the eighties and for very good reasons. Its beauty is undeniable.
Madrid is one of the most emblematic cities of our country both for its leisure and cultural offer and for its unquestionable role as an economic and business center. Discover all the experiences and opportunities that the capital can offer using the van for your changes of residence or to reach your customers.
Do not hesitate, our van rental service in Madrid is undoubtedly the best option for your needs!
Cheap van hire in Alcala de Henares
The cheap van rental in Alcala de Henares is already a reality with Furauto. Discover the cargo or passenger vehicles that will help you move from one point to another in Spain to serve your customers or go on vacation with the family. You will be so happy driving that you will not want to stop until you find yourself at the gates of the Cervantes Museum!
Alcalá de Henares is located only 30 kilometers from the capital on the A-2, so it can be a very interesting destination to spend a day away from the hustle and bustle of the city. In addition to being declared a World Heritage Site by UNESCO and having a wonderful university, this town is known worldwide for having been the birthplace of the famous author of Don Quixote.
The Furauto team has selected for you the best rental vans on the market for you to explore this town in Madrid. They are fully equipped and the most important thing is that you can book them whenever you want at incredible prices, take a look at our comparator and you will be convinced!
Do not complicate your trips looking for cheap van hire in Alcala de Henares. Thanks to Furauto, you can pick up your vehicle at our office and return it wherever you prefer with the One-Way system designed exclusively for the convenience of our customers.
Have you seen how comfortable and easy it can be to make a move or a trip to Alcalá de Henares with a rental van from Furauto? Trust in real experts who will look after your interests when choosing the vehicle with the load capacity and maneuverability that you demand in your transport, contact us and we will inform you with total transparency!
Van rental in Alcorcón
With the van rental service in Alcorcón of Furauto you will discover that this place is much more than a dormitory town near Madrid. Pay a visit to the Museum of Glass Art or contemplate the fountain of the musicians in the Parque de la Paz, with the right vehicle you will get wherever you want to go!
Have you got a new job and have to move to Alcorcón? Are you going to Rey Juan Carlos University and have you found the right student apartment for you? Don't spend unnecessary hard times trying to cram all your suitcases and packages in the back seat of your family car, rent a van and you will see that moving house is not so complicated!
From Furauto we are sure that we have exactly the right van for you. Our large fleet of vehicles covers different models and sizes with the features that will make your trip or move go smoothly. What are you waiting for to take a look at our website or call us for more information?
Rent a van in Leganés
Van rental in Leganés is especially attractive for entrepreneurs who want to take advantage of the possibilities of consumption offered by a city focused on leisure and the service sector. Your customers' orders will arrive on time and without suffering any damage thanks to Furauto!
On the other hand, the tourist attractions of Leganés cannot be overlooked either. The enthusiastic hiker and the curious will find that there are hidden wonders in the city as, for example, the Sculpture Museum that reviews the evolution of this art from the late nineteenth century to today. Book your rental van and start your trip!
Van rental in Majadahonda
The van rental in Majadahonda of Furauto makes it much easier to leave or get to this quiet town in Madrid. Escape the hustle and bustle of the big city and get lost in its market or enter the cozy cinemas of Cines Renoir where the seventh art returns to its roots and away from the commercial boom.
Say goodbye to spending hours comparing vans to see which one is the most convenient for you when travelling around Majadahonda. You only have to fill out a simple form through our corporate website or call our contact number and we will do all the work. And the best thing is that you can choose another point of the Spanish geography to make the delivery or collection of your vehicle with our One Way service!
Van rental in Móstoles
The van rental in Mostoles with Furauto will allow our customers to get a little closer to one of the cities with more parks in Spain as their number amounts to no less than sixty-six. A real urban lung just a few kilometers from Madrid!
Are you going to miss the opportunity to explore Móstoles and its rich environment because you don't have a vehicle to move around in? Of course not! In Furauto we will manage the rental of your van in the blink of an eye so you only have to worry about driving and organizing the details of your trip.