Get to know Toledo
In a city like Toledo where artisan products such as ceramics or spaderie are so renowned, it is not surprising that it is common that stores and individuals decide to move this kind of fragile objects in a minivan or van rental.
In Furauto want to do everything on our part so that our customers are not forced to resort to courier companies in which sometimes the handling of packages leaves much to be desired. The risk of accidents occurring that shatter decorative plates or other objects made of ceramics to stack boxes in a delivery cart wrong is very high.
For this reason, renting a van with Furauto is the best way to ensure the safety of the products to be transported by our users. Checking the packaging and placing the boxes personally or with the help of employees or family members is an added peace of mind.
Our van and minivan rental company has offices in many Spanish cities to be as close as possible to our customers. On the corporate website you will find all the details about our fleet of vehicles and you can make your reservation from wherever you are without hassle and without mountains of paperwork. There is nothing more practical for shipping or moving than a rental van!
Where to drop off and pick up your rental van in Toledo?
Thanks to Furauto, you can pick up and drop off your rental van in the main centers of Toledo and Talavera de la Reina, as well as in their train or bus stations. Do you want to pick up your van in Toledo and return it in another city? With Furauto you have no problem. We also have offices in the following nearby locations:
Barajas Airport
Albacete
Alcalá de Henares
Alcorcón
Badajoz
Cáceres
Ciudad Real
Atocha Station
Fuenlabrada
Guadalajara
Leganés
Madrid City
Mérida
Móstoles
Plasencia
Pinto
Puertollano
San Sebastián de los Reyes
Torrejón de Ardoz
Tres Cantos
Why visit Toledo?
Because Toledo, besides being listed as a World Heritage City since 1986, still maintains the beauty and magic of previous centuries and millennia. Christians, Jews and Muslims coexisted here and each of them left an indelible mark in history. In Toledo you should visit its extensive religious heritage, not forgetting the Cathedral of Santa María, the Monastery of San Juan de los Reyes, the Synagogue of Santa María la Blanca, the Synagogue of El Tránsito, the Mosque of Las Tornerías and the Mosque of Cristo de la Luz. In the Church of Santo Tome is preserved The Burial of the Count of Orgaz, the great painting of El Greco. Nor should you miss the House-Museum of the painter or the Hospital de Tavera - Museo Duque de Lerma. The city also houses remarkable buildings, such as the Castle of San Servando, the Alcázar, the Old Bisagra Gate, the Cambrón Gate or the Alcántara Bridge.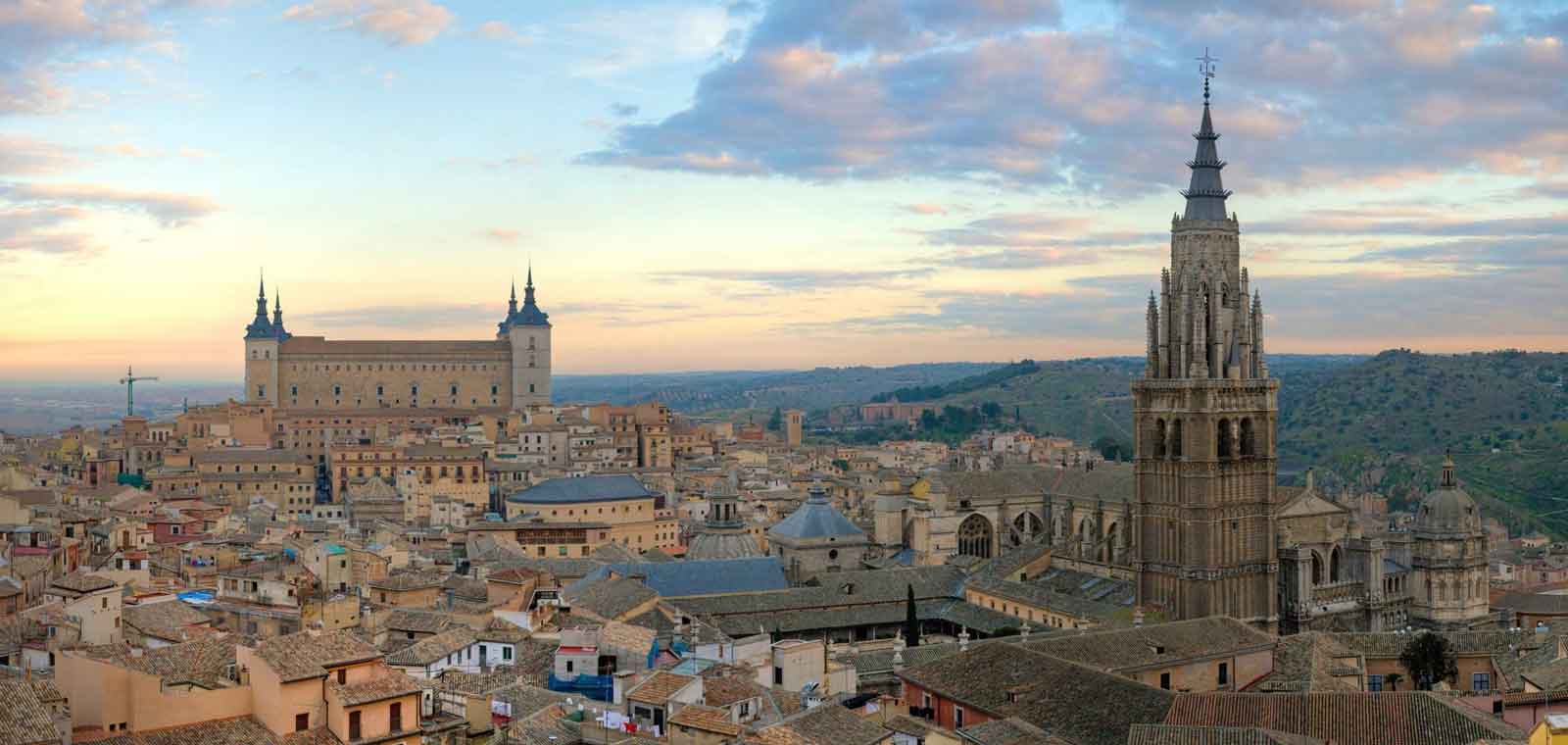 Get to know the province of Toledo
In the city of the three cultures, as Toledo is popularly known, you will find part of the most beautiful Spanish historical and artistic heritage. Stroll through its streets, enter its monuments and get to know its history. Once you have assimilated the essence of the town, you will be ready to explore the rest of the province. Your Furauto rental van will be your ideal friend for this trip:
Fuensalida
You will find in Fuensalida a shoe lover's paradise, as the town is full of shoe factories and specialized shoe stores. Take the TO-21 in Toledo and later link up with the CM-4011 to enter this municipality populated by 11,000 inhabitants. Within the historical-artistic heritage of Fuensalida, the Ermita de la Soledad, the parish church of San Juan Bautista, the Palace of the Counts of Fuensalida and the Monastery of the Holy Spirit stand out.
Mocejón
This town, inhabited by 4,844 residents, is located 15 minutes by road from Toledo. To get there, you only have to take the TO-22 for 14.5 kilometers. In the village you can visit the parish church of San Esteban Protomártir, the Vera Cruz Chapel and the Higares Castle.
Talavera de la Reina
Approximately 80 kilometers separate Toledo from Talavera de la Reina, one of the most important cities in the autonomous community of Castilla-La Mancha. To access this beautiful town, it is best to drive your rental van along the A-40 and A-5 for just under an hour. Once there, we recommend you to visit the Walls and the Albarranas Towers, the Basilica of Nuestra Señora del Prado, the Old Town Hall and its beautiful convents and palaces.
Main Municipalities of the province of Toledo
Argés
Ocaña
Bargas
Olías del Rey
Consuegra
Quintanar de la Orden
Fuensalida
Seseña
Illescas
Sonseca
La Puebla de Almoradiel
Talavera de la Reina
La Puebla de Montalbán
Toledo
Los Yébenes
Torrijos
Madridejos
Villacañas
Mora
Yuncos
Moving to Toledo
In Furauto we love the motor world. As we know that our users share our love for road travel we are going to see different alternatives to go to Toledo driving:
The AP-41: It is the toll highway that connects Madrid and Toledo.
The A-42: We will take this highway to get to Toledo from the northern territories of Spain.
The A-3 or Madrid - Valencia Highway. It reaches Toledo from the Levante region.
The A-4 or Autovía del Sur: It covers the Cádiz-Toledo route.
The N-401: It takes us to our destination from Ciudad Real.
The A-5 or Autovía de Madrid Badajoz goes to Toledo linking with the N-403.
Where to park in Toledo
From Furauto we are sure that in Toledo will not be difficult to find a parking to everyone's liking. Whether for its services and features, its price or the relationship between these two things the variety of options available in terms of payment stations is quite acceptable.
We will provide some examples so that our customers can judge for themselves:
Indigo: This parking is located at Paseo de Recaredo, 22. It is a subway parking with lighting. The most interesting thing for our customers is that the parking spaces are very large. It has capacity for 434 vehicles. It is open from Monday to Sunday. Its price for 24 hours is 19.30 euros.
Indigo 2: As it is the same company as the one described in the previous paragraph, the characteristics and services do not change. However, we wanted to include this parking lot in the article because it is in a different area of the city. It is on Avenida de Bruselas.
Parkia: This is a parking lot located in El Miradero, specifically on Gerardo Lobo Street. There is an elevator, which comes in handy when it comes to loading or unloading a van. It also has special spaces for motorcycles, car wash, toilets and electric car recharging. It is open from Monday to Friday. The maximum height allowed for vehicles is 2 meters and the price for 24 hours is 19.20 euros.
Toledo City Hall: This public body offers 635 uncovered parking spaces at Safont, Avenida de Castilla-La Mancha, 3.
Paseo de la Rosa: Here we find 500 parking spaces which, as in the previous case, are uncovered and free of charge.
Isolux Corsan Aparcamientos S.L: This company is responsible for Parking Nara, which is located as its name suggests in the Plaza de la Ciudad de Nara. It is a subway parking lot with lighting. There are 305 parking spaces. It is open from Monday to Saturday from seven in the morning to eleven at night. Its rate for 24 hours is 19.20 euros.
Driving through downtown Toledo
Accessing downtown Toledo by van is complicated. While it is true that there is no inconvenience to drive to the historic center of the city, the streets are somewhat narrow and this situation is even more aggravated in the case of vans or minivans.
However, there is no need to despair. In the street there are limits to how long a parking space can be occupied, but as we have seen in the previous section of this article, going to a subway parking lot is an option that is always at hand and thanks to which you will not have to worry about space problems.