Get to know Salamanca
Salamanca is a place that catches the visitor. Almost in any corner we can find wonderful places like the Huerto de Calixto y Melibea or the charming palace of the Casa de Lis. If you have been seduced by this city in the community of Castilla y León and you are going to move to its streets in Furauto we have the vehicles that will help you in your move.
No one is fully aware of how useful a van can be until you try to drive one. In Furauto we are clear about this simple truth and that is why we want our customers to know firsthand the different types of vans and minivans we have in our catalog. The concept of "spacious vehicle" will never be the same.
On our website you will find all the information you want. However, there's nothing like a face-to-face meeting, so if you prefer, you can talk to one of our employees. You will see immediately that they are real experts in the car rental industry.
Contrary to popular belief, driving a van and parking it doesn't have to be a daunting task. Our repeat customers report that they feel very comfortable maneuvering our vehicles.
Driving a van around town when moving is not a disadvantage but an advantage. In just a few trips you will be done and you can devote your time to other things. Booking your vehicle with Furauto will take you a few moments! Do you want to check it out?
Where to pick up a rental van in Salamanca?
Furauto offers you the possibility to pick up and drop off your rental van in central areas of Salamanca, such as its train or bus station. If you want to return your vehicle in another Castilian city, you should know that we also offer our services in Avila, Burgos, Leon, Palencia, Ponferrada, Segovia, Soria and Valladolid.
Why visit Salamanca?
Because in Salamanca you can visit the oldest active university in Spain. Founded in 1218 by order of Alfonso IX of León, it was also the first in Europe to hold the title of university, recognition that was granted by Alfonso X the Wise 34 years later.
This capital, specifically its old city, was also declared a World Heritage Site by UNESCO in 1988. In part, thanks to its Plaza Mayor, its two Cathedrals, the Convent of San Esteban, the Casa de las Conchas, the Chapel of the Vera Cruz and the Orchard of Calixto and Melibea.
Just like the protagonists of La Celestina, historical personalities such as Christopher Columbus, Fernando de Rojas, Antonio de Nebrija, Fray Luis de León, Francisco de Vitoria, Miguel de Unamuno and Cervantes also passed through here.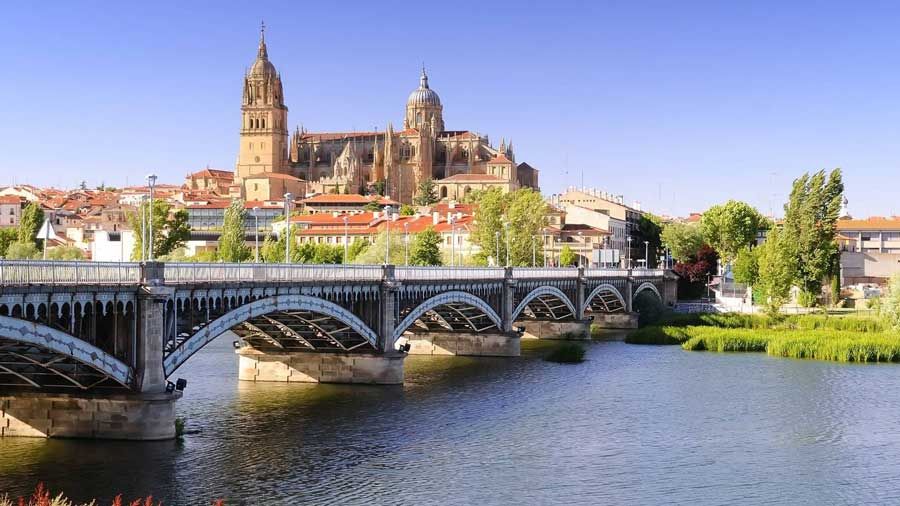 Get to know the province of Salamanca
Visit, thanks to your rental van, the following five municipalities, all of them considered as part of The Most Beautiful Villages of Spain. Nature lovers can also enjoy the Natural Park of Las Batuecas - Sierra de Francia, the Quilamas, the Sierra de Candelario or the Alcornocal de Valdelosa.
Candelario
Drive your rental van along the A-66. Past the municipality of Vallejera de Riofrio, take the N-630a to enter this town populated by 934 coritos. Candelario is a beautiful town, perfect for strolling and enjoying its architecture. In addition, you can also visit the Ethnographic Museum, the Parish Church, the Ermita del Humilladero and the Mirador Cruz del Herrito.
Rodrigo City
Take the A-62 to reach Ciudad Rodrigo, one of the most important towns in Salamanca, comfortably and in 50 minutes. Inhabited by almost 12,900 Mirobrigenses, it is the fourth most populated municipality in the province. Once here, do not miss the Castle of Henry II of Trastámara (now a Parador), the Cathedral of Santa Maria, the Walls, the Main Bridge, the Palace of the Águila family
and the Plaza Mayor.
La Alberca
It takes approximately one hour to get to La Alberca from the capital of Salamanca. To make this route, take the CL-512 to change to the SA-210 in the municipality of Vecinos. Continue driving on this road until Tamames, where it connects with the SA-201. In addition to strolling through its beautiful streets and enjoying the typical gastronomy, visit the Church of Nuestra Señora de la Asunción, the Great Tower and the Sanctuary of the Virgen de la Peña de Francia.
Miranda del Castañar
Enjoy driving your rental van for just over an hour, what it takes to get to Miranda del Castañar from Salamanca capital. The journey must be made by the CL-512 and take the SA-205 in the municipality of Vecinos. This village, which has a unique heritage and is inhabited by 426 mirandeños, was declared a Historic Site in 1973. Among all its offerings, do not miss the Zúñiga Castle, the square Bullring, the Wall, the Alhóndiga, the Ronda Nocturna and the Calle Derecha.
Mogarraz
Only 6 kilometers separate La Alberca from Mogarraz, a beautiful and interesting municipality inhabited by 309 neighbors. Although the whole town was declared of Cultural Interest in 1998, the Parish Church of Nuestra Señora de las Nieves, the Plaza Mayor, the Ermita and the Fuente del Humilladero and the Ethnographic Museum are worth a special visit.
Main Municipalities in Salamanca
Alba de Tormes
Ledesma
Béjar
Miranda del Castañar
Cabrerizos
Mogarraz
Carbajosa de la Sagrada
Peñaranda de Bracamonte
Castellanos de Moriscos
Salamanca
Doñinos de Salamanca
Santa Marta de Tormes
Candelario
Terradillos
Ciudad Rodrigo
Villamayor
Guijuelo
Villares de la Reina
La Alberca
Vitigudino
Main roads in the province of Salamanca
A-50: Culture Highway
A-62: Castilla Highway
A-66: Silver Route
N-501: National Highway Avila - Salamanca
N-620: Road from Burgos to Portugal through Salamanca
N-630: Gijón - Puerto de Sevilla Highway
SA-11: North access to Salamanca
SA-20: South ring road of Salamanca
Take advantage of our One-Way service and pick up and drop off your van in different cities of the Spanish geography. Do you need to start your route in Salamanca and finish in Toledo?
Roadside assistance in Salamanca
In case the vehicle suffers some kind of mishap during the road trip from Rentoauto we have thought it appropriate to include a section in this article with useful telephone numbers of towing services that are responsible for the collection and rescue of vehicles in Salamanca.
Grúas La Paz: 24 hour roadside assistance service. The options to call the company by phone are 923120547 and 629877273.
Grúas Francho: This company offers towing services for several types of vehicles, including caravans. Contact telephone numbers are 923330000 and 923330205.
Refueling at a service station
Getting an idea in advance of where are the main gas stations and service stations distributed throughout a city will make the displacements and transport operations of goods or merchandise of our customers more bearable. With this objective, we offer the name and the location of some of these establishments of Salamanca:
Gasóleos Pérez Santiago: It is located on the road to Madrid at km 89.400. Santa Marta.
Eumogas-Tejares: Avenida La Salle S/N. It can be contacted through the number 923193275.
Isamaro: It is located at 47 Fregeneda road. The telephone number is 923191012.
Going to Salamanca at the wheel of a van
Next, we are going to explore a little bit the different ways and roads to Salamanca. Driving to this city does not represent any effort because you can enter and leave it by different routes.
In Furauto do not want to be responsible for our customers get lost on Spanish roads before reaching the capital charra and we will give certain indications for that does not happen:
The A-62: Connects Salamanca with Valladolid.
The A-66 or Ruta de la Plata: It is the most direct route to enter Salamanca coming from Zamora. The N-630 is an alternative to this route, but this road has a higher density of road traffic.
The AP-6: The toll freeway of La Coruña. It is the indicated one if you are coming from Madrid. It is necessary to follow it until Ávila-Villacastín. The A-50 highway leads to Salamanca from Ávila.
Looking for parking in Salamanca
In this section we will talk a little about the different parking lots where you can leave your van or minivan in Salamanca. Of course, from Furauto we want to point out that the parking companies reflected here are not the only ones in the city and there are more options.
However, here we will describe the features and services of some of these companies so that our drivers know more or less where to go when parking on the street becomes an almost impossible task:
Parkia: This parking lot is in Campillo, Calle de Teodoro Andrés Marcos. It is a subway but illuminated parking lot. As relevant data it is worth mentioning that the maximum height allowed for vehicles is 2 meters. On the other hand, it has special parking spaces for the disabled and other extras such as toilets and an elevator. It is open from Monday to Sunday. Its price for 24 hours is 13.63 euros.
Garaje San Juan 2002 S.L: It is located at Calle de los Perdones 1-5. It has 40 covered parking spaces, including some reserved for the disabled. It is open from Monday to Sunday. Its rate for a 24-hour stay is about 13 euros.
Le Mans: This parking lot is located on Calle de Peña Primera. It is a covered and illuminated site with a capacity of 101 spaces. Three of these parking spaces are reserved for the disabled. It is open from Monday to Sunday. Parking for 24 hours costs 14.40 euros.
Empark Aparcamientos y Servicios S.A: This parking lot is located in Plaza de Santa Eulalia. It is a subway car park with artificial lighting. It has drink machines which is ideal if a driver needs to replenish sugar levels after a long journey. There are 239 parking spaces, four of which are reserved for the disabled. The height restriction for vehicles at this site is 1.95 meters. Open from Monday to Sunday. The price for 24 hours is 13.60 euros.
Garaje Monroy: As its name indicates, this parking is located at 27-35 Monroy Street. Both the price and the availability of this parking lot are quite good but the number of parking spaces is very small as it amounts to only forty. The garage is open from Monday to Sunday and its rate for 24 hours is 13.20 euros. There are spaces reserved for the disabled and the maximum height of vehicles must be 1.90 meters. Payment is in cash.
Avenida de Portugal: This parking lot is located at the address of the same name. It is a subway car park with a capacity of 391 spaces. The rate for leaving the car for one day is 13.63 euros. It is open from Monday to Sunday and payment can be made in cash or by credit card.
Salamanca, committed to road safety
The streets of Salamanca can accommodate more than 100,000 vehicles on a normal day. For this reason, the city council has long since taken measures to improve road safety for both residents and visitors.
Some of the measures that have been taken to reduce the number of accidents and collisions include making sure that signage is as clear and precise as possible, taking care of the strategic location of traffic lights and even installing new surveillance radars.