Get to know Gijón
Gijón's location in the center of the coast of Asturias makes it particularly interesting for the transport of goods and products by road. Visit the city by renting a van from Furauto and you will not regret it, you will end up recommending us to your friends and acquaintances!
As it usually happens, you never know how many things you keep in your house until you have to prepare the moving boxes. Have you realized that everything does not fit in your car? Are you afraid of breaking the most delicate objects for not storing them properly?
None of this represents the slightest inconvenience if you rent one of the vans from the extensive catalog of Furauto. Take your things how and when you want without depending on the schedules of moving companies. We know our customers are busy people who can't spend the whole day on a move, so do things yourself with the help of a rental vehicle!
On our website and in our offices you will find all the information you may need and you will be able to examine the available vans and minivans with total freedom and in a quick and simple way. Contact us and let our consultants take care of you!
Where to drop off and pick up your rental van in Gijón?
With Furauto you can pick up and drop off your rental van in central areas of Gijon, as well as in Oviedo, Avilés or Asturias Airport, located in the council of Castrillón. If you prefer, you can take advantage of the One-Way system, which allows you to return your vehicle in other parts of Spain. Here are other locations that may be of interest to you:
A Coruña
A Coruña Airport
Santander Airport
Vigo Airport
Ferrol-Narón Airport
León
Lugo
Orense
Ponferrada
Pontevedra
Santander
Vigo
Why visit Gijón?
Because Gijón is the Asturian city that has best combined tradition and modernity. Popularly known as the capital of the Costa Verde, it is also the most populated city in the Principality, with more than 273,000 inhabitants.
Although there is evidence of an earlier presence in Monte Deva and Monte Areo, Gijón was founded in the 5th century BC. At this time, a group of Asturians settled permanently in the area of Campa Torres, building one of the most important forts on the Cantabrian coast. The Romans later walled the city, called it Gegionem and turned it into an important seaport.
In addition to the Roman Baths and the places already mentioned, the Jovellanos Birthplace Museum, the Aquarium, the Botanical Garden, the Jovellanos Theater, the Town Hall, the Revillagigedo Palace, the Laboral University and its religious centers are well worth a visit.
As a good Asturian city, the fabada is its star dish, although you should not leave Gijón without tasting the pote, the bollo preñado, El desarme, the carbayones and its fantastic cider.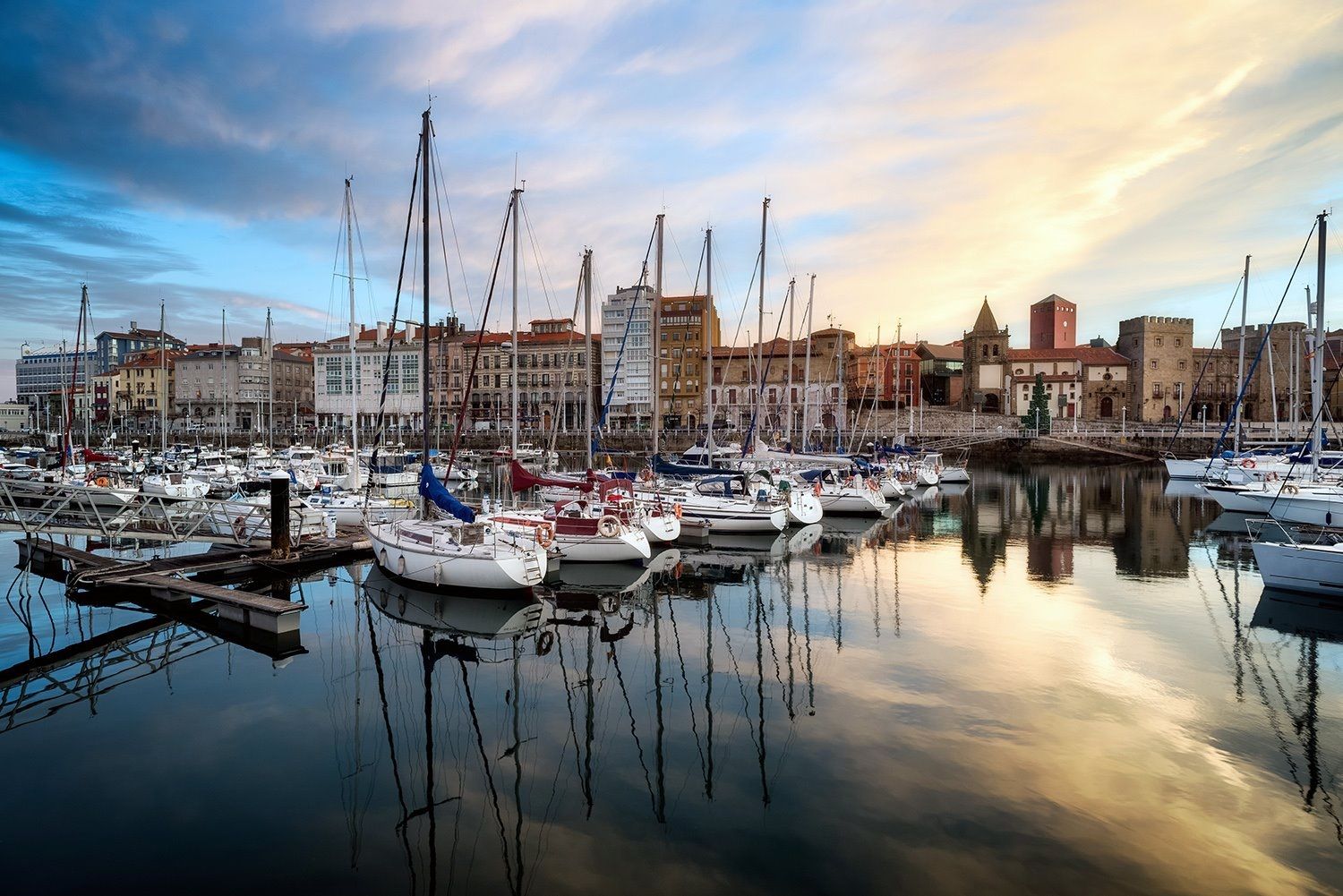 Get to know the Principality of Asturias
Take your Furauto rental van and travel along the Asturian coast in search of some of the most beautiful towns in the country. Here you will find nature, history, beaches and dinosaur footprints.
Cudillero
The A-8 connects the 53 kilometers between Gijón and Cudillero in about 40 minutes. Once here, you will have to go to the fishing port, the main tourist attraction of the town. After taking the appropriate photographs and strolling through its beautiful streets, you can visit the Chapel of Humilladero, the Rectory House and the Quinta de Selgas.
Lastres
In just over 30 minutes you can comfortably reach this beautiful town located about 40 kilometers from Gijón. Drive along the A-8 to enjoy this parish of the council of Colunga, from where you can see the Asturian coast in all its splendor. In addition to the Church of Santa María de Sábada and the Chapel of San Roque, you can take a walking route to see the sets of the television series Doctor Mateo.
Luarca
Both towns are separated by 90 kilometers, a trip of approximately one hour. To reach this parish in the council of Valdés, popularly known as "the white village of the green coast", it is necessary to take the A-8 again, although this time heading west. In this town, which serves as a passage of the Camino de Santiago and where Severo Ochoa was born, you can enjoy the lighthouse, the Palace of the Marquis of Ferrera and its beautiful views of the coast.
Ribadesella
We drive back to the east of the Principality until we reach Ribadesella, specifically we must take the A-8 for just over 45 minutes. This town is world famous for celebrating the International Descent of the Sella every August, although its Jurassic remains and its views from the cliffs are also incredible. Not to be missed is the Tito Bustillo Cave, declared a World Heritage Site by UNESCO in 2008.
Tazones
Half an hour away by the N-632 and the A-8 is Tazones, a village in the council of Villaviciosa. This parish, which is inhabited by 254 neighbors, is famous because it was precisely here where Charles V arrived to be crowned King, so this was the first Spanish land he set foot on back in 1517. Once here, do not miss the Parish Church, the House of Shells, the Dinosaur Footprints and the Lighthouse.
Main councils of the Principality of Asturias
Aller
Laviana
Avilés
Lena
Cangas del Narcea
Llanera
Carreño
Llanes
Castrillón
Mieres
Corvera de Asturias
Oviedo
Gijón
San Martín del Rey Aurelio
Gozón
Siero
Grado
Valdés
Langreo
Villaviciosa
How to get to Gijón by road
In Furauto we know that it would be a huge task to describe each and every one of the accesses that connect Gijon with the rest of Spain. However, we are going to make a brief approximation in this article to serve as a starting point for our users before getting a more complete road map:
The A-8: This highway is the most suitable if we come from Cantabria, Galicia, Barcelona or Burgos.
The AP-66 or Autopista del Huerna: This is the one to take if you are coming from Castilla y León. The only drawback is that it is a toll road and is a bit expensive.
The N-630: This is the Ruta de la Plata and covers the distance between Gijón and Seville.
The A-66: This highway runs parallel to the N-630 and covers the 800 km between Gijón and Seville.
The AP-66: León-Campomanes. This is another option that allows us to drive to Gijón.
The N-634: Irún-Santiago de Compostela. It joins in Asturias to the N-632 that allows us to go inland or drive along the coast.
Paid parking in Gijón
When transport and removals are carried out, the parking of the van becomes an added stress since it is not possible to leave the vehicle in any place so as not to disturb the rest of the drivers or passers-by. For this reason, in Furauto we have made a selection of parking to which we can go in Gijón:
Jovellanos: It is located on Avenida Juan Carlos I. It is a free parking that is uncovered. It is open from Monday to Sunday 24 hours a day.
Calle de la Bohemia: This parking is designed for short stays since the maximum parking time is about two hours. Its rate is 0.85 cents per hour and it is open Monday to Saturday from nine in the morning to two in the afternoon. However, free parking is available outside these hours.
Avenida Portugal 84: This parking lot has only about thirty spaces but they are large. This is always a plus for van drivers. In addition, it is open from Monday to Sunday 24 hours and is free of charge.
MutuaPark: It is located in the Espigón Fomento more specifically in the Calle de Rodríguez San Pedro. The parking lot is subway but is illuminated. They have insurance and places for handicapped people. Its rate for 24 hours is 15.70 euros and it is open from Monday to Sunday.
Inmonorte: It is located in Plaza de Europa. Its parking lots are divided between those for residents and public parking lots, so it suits both our users who are from Gijón and those who are not. In total there are 411 parking spaces. It is open from Monday to Sunday and its price for 24 hours is 12,50 euros.
Garaje Pleva: Its address is Calle Marqués de Casa Valdés, 69. It is a subway and illuminated parking lot open from Monday to Sunday. Its rate for a 24-hour stay is 14.75 euros.
Going to Gijón or driving through its streets in your rental vehicle is the best option so that your transportation does not become a real nightmare. Pick up your van and drop it off without rushing and without stress when you have finished using it, it's that simple!