Rent a van in Alicante
The attraction of Alicante goes far beyond stunning beaches or a good cultural offer. This port city of the Valencian Community enjoys excellent road communications. Therefore, from Furauto we have not hesitated for a second to put our vans and minivans for rent at the service of anyone who needs to move around this city.
Renting a van is extremely practical. Not only will you avoid causing any damage to your private vehicle by filling it beyond its capacity, but also the loading and unloading process will be much easier as you will have more space to place things in a proper way.
To take your business merchandise from one place to another or simply to make a move because you have a new apartment or a bigger office for your company. You decide why you need a rental vehicle and we provide you with all the guarantees of safety and maintenance.
In Furauto we are always ready to find the best solution for you. Check our website to take a look at the different models of our vans and minivans.
Remember that if you have any questions or want more detailed information about the rental procedures or about the performance of a particular vehicle you can contact us. Either through the web or by phone, the professionals of our offices will be happy to assist you with rigor and speed.
Where to deliver and pick up your rental van in Alicante?
Furauto allows you to pick up and deliver your rental van in central locations of the capital of Alicante, as in its train or bus station. If you prefer, you can also choose the town of Benidorm or Alicante Airport, located in the municipality of Elche. Furauto also has offices in other municipalities of the Valencian Community:
Valencia Airport
Aldaia
Castellón de la Plana
Massanassa
Valencia
Why visit Alicante?
Because so many tourists can't be wrong. Alicante is one of the most visited cities during the summer months, especially because of its beaches. Do you like the sea? Enjoy San Juan, La Almadraba, La Albufereta, El Postiguet, Agua Amarga, El Saladar and Tabarca Island. If you prefer coves, hide from the routine in Cantalares, Los Judíos and La Palmera.
Alicante also offers a rich patrimonial offer. In addition to its numerous museums, it is advisable to visit the Basilica of Santa Maria, the Co-cathedral of San Nicolas de Bari, the Monastery of Santa Faz, the Central Food Market, the Fish Market and the Castles of Santa Barbara and San Fernando.
Once here, it is impossible not to enjoy its rich gastronomy. It goes without saying that they are masters at cooking paella, although in this province you will also find exquisite salted fish. How to forget the nougat, barley water and horchata de chufa (tiger nut milk).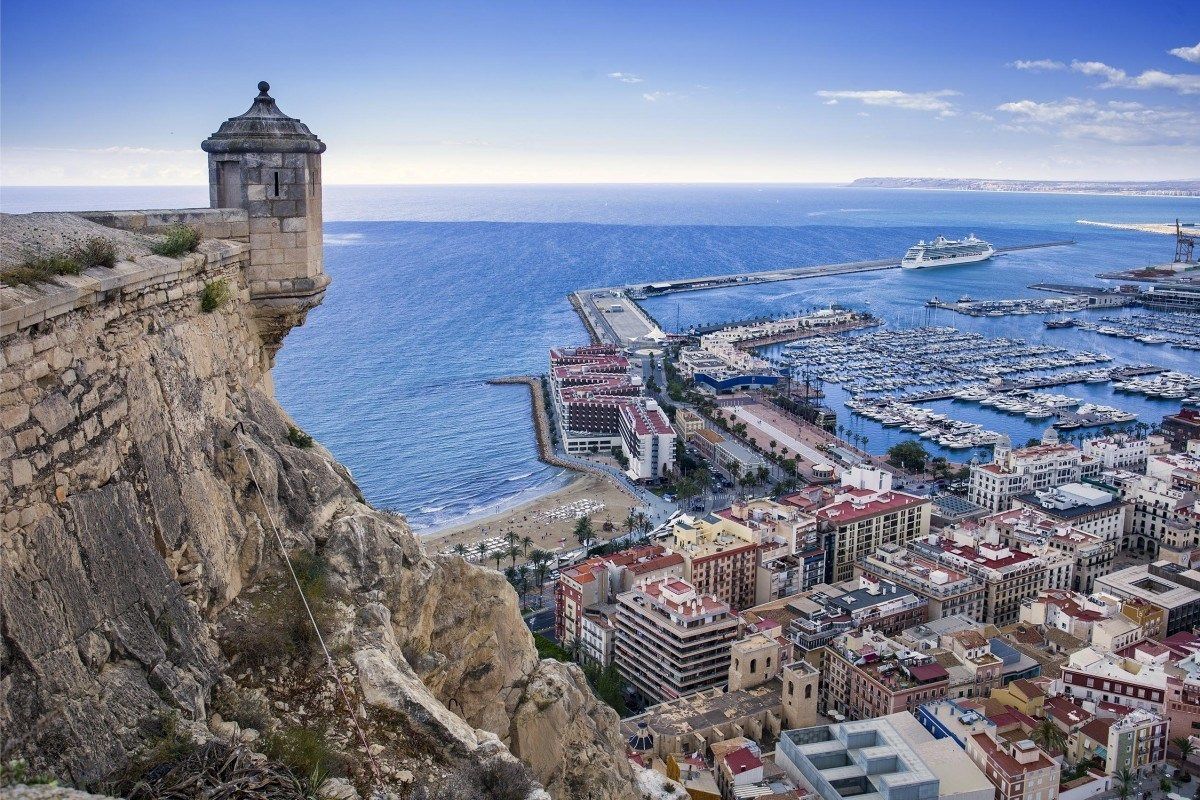 Get to know the province of Alicante
Take your rental van and start touring the province of Alicante, discovering its rich culture and great beaches. Furauto offers you the ideal opportunity to travel in the company of your family or friends, saving money on gas and tolls:
Altea
You will need about 45 minutes to get from the capital to this town of about 21,800 inhabitants. Drive your rental van along the AP-7 or the N-332 if you prefer a free alternative. In addition to visiting its wonderful beaches, do not miss the Church of the Barefoot Carmelite Monastery, the Old Town, the Promenade, the Orthodox Church of Altea and the Museum of the Sea.
El Castell de Guadalest
61 kilometers (about an hour) separate the capital of Alicante from this town of just over 200 inhabitants. To get here, drive your rental van on the AP-7 to the municipality of Benidorm and connect there with the CV-70. Located in the region of the Marina Baja, it is home to an extraordinary town that was declared of Cultural Interest. Special mention should be made of the Castle of San José, the Orduña House, the Parish Church of Nuestra Señora de la Asunción, the Castle of Alcozaiba and the Prison.
Elche
Drive your rental van on the A-31. On leaving Alicante, take the A-70, which becomes the AP-7 as it passes through the town of Elche. This is the second most important municipality in the province, even housing the Alicante Airport. It is important to visit the Basilica of Santa María, the Calahorra Tower, the Altamira Palace, the Crítica and the Generalitat Valenciana Bridge. Its palm grove, the largest in Europe, was declared a World Heritage Site by UNESCO in 2000.
Xàbia
The AP-7 also connects the capital of Alicante with Xàbia in just over an hour. A town visited for its good beaches and magnificent coves, here it is also possible to find the Church of San Bartolomé, the Parroquia del Mar, Los Molinos, the Natural Park of Montgó and the Marine Reserve of Cabo de San Antonio.
Main municipalities in the province of Alicante
Alcoy
Ibi
Alicante
Jávea
Altea
Novelda
Benidorm
Orihuela
Calpe - Petrel
Campello
San Vicente del Raspeig
Crevillente
Santa Pola
Denia
Torrevieja
Elche
Villajoyosa
Elda
Villena
Knowing the roads of Alicante
Knowing how to get to your destination is the most crucial part of any trip. So from Furauto want to devote a few lines to explain to our customers succinctly what are the most common access roads to the city of Alicante:
The N-332: It goes from Torrevieja to Denia.
The N-340: It reaches the city of Alicante penetrating through the south of the peninsula but it is not one of the most recommended routes because its layout makes the accident rate is high.
The AP-7 or Mediterranean Motorway: It is part of the European Road Network called E-15. Its route starts at the French border and passes through Algeciras. It is a toll road from the province of Ondara to the city of Alicante itself. Its exits are in Ondara, Benissa, Altea, Benidorm, Villajoiosa and Campello.
The A-31 or Madrid Highway: It links Alicante with Albacete and Madrid.
The A-70 is a ring road around Alicante.
The A-7 also known as Autopista Central: It connects Alicante with Valencia but avoids the toll that would have to be paid if taking the AP-7.
As we have seen, road communications in the province of Alicante with the territories of the rest of the Peninsula are very good. One more incentive so that our displacements in van are carried out without any setback.
Where can I leave my car in Alicante ?
The difficulties at the time of parking are a recurrent concern among the community of drivers. And this discomfort increases significantly in the case of a van or minivan because of its size this kind of vehicles do not fit in any hole.
As from Furauto we are very aware of this problem of our users we will provide some ideas on what paid parking can use in Alicante:
Parking Alfonso el Sabio S.L: It is located at Avenida Alfonso X El Sabio 45. It is a subway and illuminated parking lot that has special parking spaces for the disabled and motorcycles. Its price is 12.05 euros per 24 hours and it is open from Monday to Sunday.
UTE Vectalia-Pavasal: It is located in the Plaza de la Montañeta. It offers special spaces for the disabled, space for motorcycles, electric car recharging, elevator and space for bicycles, among other services. Its price is 14.90 euros for 24 hours. Open from Monday to Sunday.
Parking Canalejas S.L: The address is Calle de Rafael Terol, 30. It is an illuminated multi-storey garage. It should be noted that the maximum height allowed for vehicles is 1.75 meters. It is open from Monday to Sunday and its price is 13.50 euros per 24 hours.
Garaje Europa S.L: It is located in La Lonja at 35, Capitan Segarra Street. It is partially covered and has insurance, electric car recharging and parking spaces for the disabled.
Grupo Cívica: It is located on Avenida del Catedrático Soler. It has reserved spaces for motorcycles and handicapped people and there is an elevator. It is open from Monday to Sunday and its price is 9.65 euros for 24 hours.
Driving through the streets and roads of Alicante with Furauto is easy and simple. Save money and headaches by using a rental car for your transportation. There is no distance we can't help you cover, talk to us and find out more without obligation!