Get to know Granada
Travelling to Granada by van or minivan is really worthwhile. Whether you are going to make a short trip there carrying some kind of goods or if you have decided to change of scenery and move to this city adorned with the beautiful Alhambra Furauto vehicles will help your trip runs smoothly and on schedule.
A good and reliable rental van is what suits you best for your transfers whether you do not have your own vehicle or if the one you have does not fit exactly what you need at any given time. Come to one of our offices or call us to find out what we can do for you.
In Furauto we are experts in assisting and advising drivers to find the perfect vehicle. Take a look at our website and see the different models that make up our varied selection of vehicles. You will see that we have vans of different classes, of various sizes and perfectly equipped to accompany you on your trips on the road or city.
Your furniture and products will arrive at their destination intact and without the slightest damage. We know how important it is for you or your company not to lose money on valuable merchandise or to avoid the disappearance of objects of incalculable sentimental value. Traveling in a comfortable and safe way is within reach!
Where to drop off and pick up your rental van in Granada?
Granada is a great city to enjoy with family and friends. It is also one of the cradles of flamenco. In the neighborhoods of Albaicin and Sacromonte you can still discover charming places with live shows. Do not hesitate and hire your rental car now.
Furauto allows you to pick up and drop off your rental van in key areas of the capital of Granada, such as the airport or the train or bus station. If you prefer, you can also return your vehicle in other parts of Andalusia:
Jaén
Linares
Úbeda
Córdoba
Huelva
Isla Cristina
Algeciras
Cádiz
Chiclana de la Frontera
Conil de la Frontera
Jerez de la Frontera
La Línea de la Concepción
Rota
Antequera
Benalmádena
Málaga
Marbella
Nerja
Torremolinos
Almeria
Mojácar
Roquetas
San Pablo Airport
Dos Hermanas
Mairena de Aljarafe
Seville
Why visit Granada?
Because this city is one of the most beautiful in Spain. Former capital of the Zirid and Nasrid Kingdoms, it still preserves the Alhambra and the Generalife Gardens, declared a World Heritage Site by UNESCO in 1984, together with the Albayzin district. Shopaholics should not miss the Alcaicería, a commercial area similar to an Arab souk.
After the reconquest by the Catholic Monarchs, the city continued to hold the title of capital of the Castilian Kingdom of Granada. The Cathedral of the Incarnation and the Royal Chapel, which houses the tombs of Isabella I of Castile, Ferdinand II of Aragon, Juana la Loca and Philip the Handsome, deserve special mention. It is also impressive to walk through the Sacromonte, visit the Cartuja Monastery and climb up to the Mirador de San Nicolas.
Outside the capital you can enjoy the ski resort of Sierra Nevada, spend the day in the villages of Las Alpujarras or sunbathe on the Costa Tropical. In all these places you can enjoy the magnificent Arab-Arabic-Andalusian cuisine, with Arab and Jewish influences.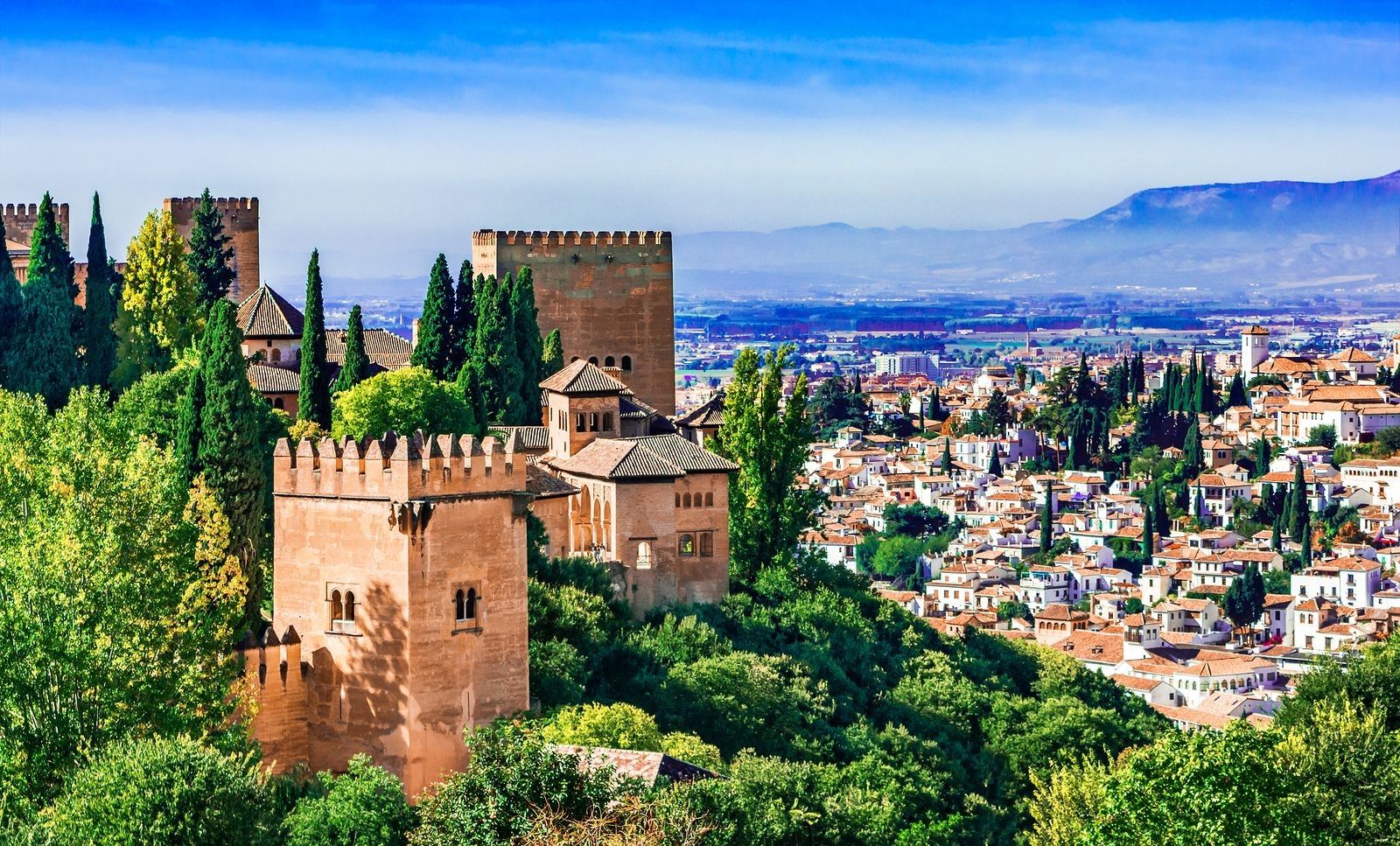 Get to know the province of Granada
The province of Granada has a lot to offer, and you will need several weeks to get to know all the charm of Granada. If you don't have that much time, start by visiting the following towns:
Lanjarón
You will need 45 minutes to get from the capital to this town of about 3,500 inhabitants. Drive your rental van along the A-44 to the town of Peloteos. Once here, connect with the A-348 to enter one of the most famous villages of Granada. In addition to visiting the Church of the Virgen de la Encarnación, the ruins of the Castle, the fountains and the Barrio Hondillo, do not miss the Balneario de Lanjarón.
Montefrio
50 kilometers (about an hour) separate the capital of Granada from this town of just over 5,600 inhabitants. Located in the region of Loja, it is home to an extraordinary heritage that was declared a National Historic-Artistic Site in 1982. National Geographic named it as one of the 10 towns with the best views in the world, due in part to its church (a former Andalusian castle).
Pampaneira
Drive your rental van along the A-44 to the municipality of Peloteos. Already in the foothills of the Sierra Nevada, take the A-348 and the A-4132 to enter this small village of 318 inhabitants located in the heart of the Alpujarras. Stroll through its streets, full of whitewashed buildings and handmade jarapas in a multitude of colors. If you are looking for a partner, don't forget to visit the Chumpaneira fountain.
Salobreña
This town of 12,400 inhabitants is about 67 kilometers from the capital. To make this trip, you must drive your rental van on the A-44 southbound for about 40 minutes. Then take the A-7 to access this tourist town on the coast. Here you will discover the Salobreña Castle, the Municipal Archaeological Museum, the Paseo de las Flores viewpoint, the Parish Church of Nuestra Señora del Rosario, etc.
Velez de Benaudalla
The A-44 also connects the capital of Granada with Velez de Benaudalla in just over 45 minutes. A town visited by climbers and lovers of outdoor sports, it also has a mosque (the remains of it) and the Nasrid Garden, with more than 500 years of history.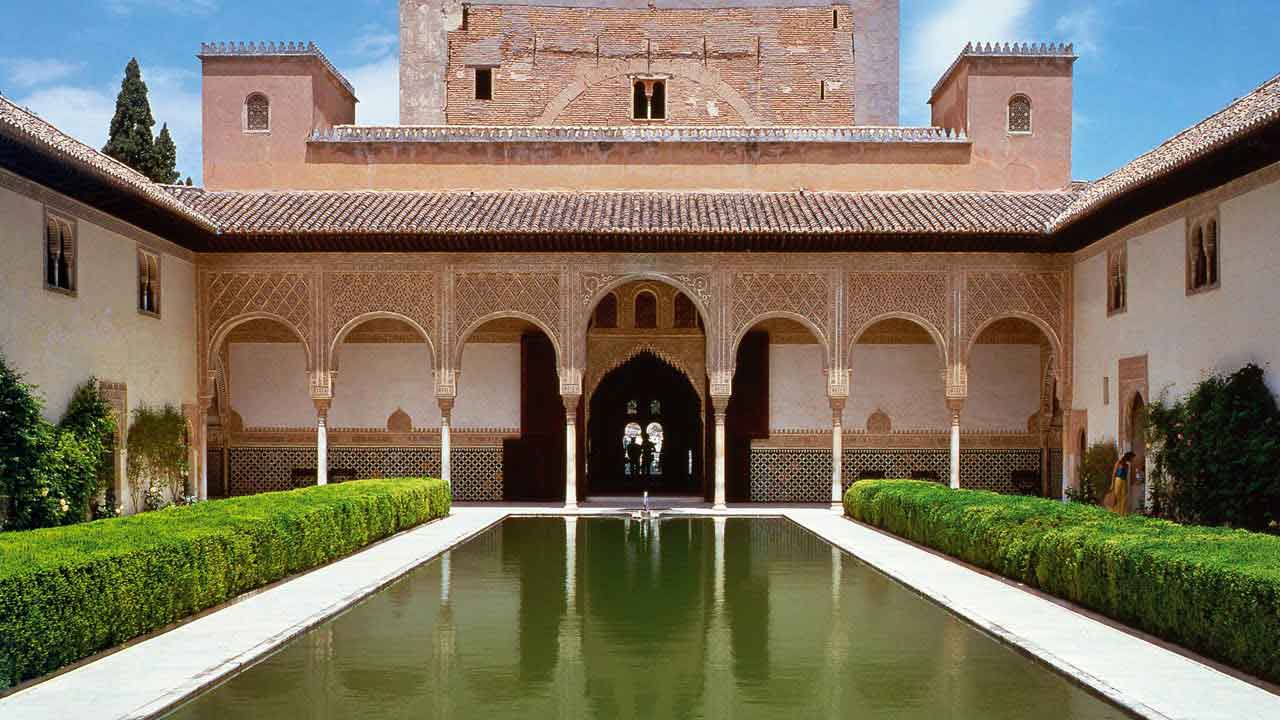 Main municipalities in the province of Granada
Albolote
La Zubia
Almuñécar
Las Gabias
Armilla
Loja
Atarfe
Maracena
Baza
Motril
Churriana de la Vega
Ogíjares
Granada
Peligros
Guadix
Pinos Puente
Huétor Vega
Salobreña
Íllora
Santa Fe
Knowing the roads of Granada
Then in Furauto we will have a detail with our customers reviewing some of the main road access to Granada. We are aware that when you have never driven to a place to plan how to get there can be stressful so we hope this information is helpful:
N-432: Covers the route from Cordoba to Granada passing through the towns of Espejo, Baena, Alcaudete and Alcala de la Real.
The A-4: This is the road we have to take if we leave from Madrid. To get to Granada we have to continue further along the A-44.
The A-92: If you go from Almeria to Guadix then you can make the connection with the N-324 that will take you to your destination.
The A-381: This road will be the beginning of our trip if we start in the province of Cadiz. Later we will take the AP-7 and the A-7. Be careful because on this route you will have to pay a toll.
Suggestions for parking our van
As in Furauto know our customers we are convinced that they are concerned that something unpleasant happens to our rental vehicles when choosing parking. That is why we have compiled a list of some of the parking in Granada. Safety and comfort when parking, all in one!
Empark Aparcamientos y Servicios S.A: It is located in Plaza San Agustín, more specifically in Calle del Cristo de San Agustín. It is open from Monday to Sunday and has parking spaces for the disabled. Its price for 24 hours is 25 euros.
Gran Capitán: It is located at Calle Gran Capitán, 10. It is a subway but illuminated parking lot. It is open from Monday to Sunday from half past seven in the morning to one in the morning. The maximum height of vehicles must be 1.85 meters. The price for 24 hours is 15 euros.
Mobility Granada: The address is Plaza Puerta Real. Plaza del Campillo. It is a subway garage with lighting and spaces for handicapped people. Open from Monday to Sunday. The 24-hour rate is 21.50 euros, although this is payable after the first ten hours.
AUSSA: It is located in Maristas. Calle Sócrates, 8. It is a subway park with lighting. It also has spaces for handicapped people and motorcycles. There is an elevator and the maximum height allowed for vehicles is 2.29 meters. It is open from Monday to Sunday. The rate for 24 hours is 18 euros.
SierraPark Parking: It is located at Calle Arabial, 5. It is a pay station with subway parking spaces and lighting. It is open from Monday to Sunday and the rate for 24 hours is 15 euros.
Vehicle access restrictions
In Granada there are certain limitations to vehicular traffic that must be taken into account when moving around the city. However, these limitations are focused almost exclusively in areas of tourist interest so it is unlikely to affect our users if they have rented a van with a view to moving or transporting belongings and goods.
The areas with the greatest difficulties of accessibility by car are basically three: the city center, the Realejo and the Albaycín. Nothing out of the ordinary if one takes into consideration the special protection of historic areas against the adverse effects of pollution in many Spanish cities. In any case, be careful with the bollards and the license plate cameras.