Find the rental car in Vic that best suits your needs with Furauto's online comparator. Book, pick up and drop off your vehicle in an easy, fast and economical way.
Exploring Vic with your rental car
Welcome to Vic, a beautiful town in Barcelona that will allow you to travel to medieval times, the Roman Empire and the years of Catalan modernism. A magnificent mix of styles that you can get to know to perfection thanks to your rental car.
About 42,500 inhabitants live in the capital of the Osona region. This municipality has been known throughout history as Vich. However, in 1982 the Institute of Catalan Studies adapted its rules and changed the name to Vic.
If we take a look at the history of the town we discover that the first vestiges found in this territory date from the fourth century BC. Ausa, as it was known by the Ausetans, became a city in Roman times and was named Episcopal see by the Visigoths. In 826 it was completely razed to the ground.
As for the natural wonders of the surroundings you can not miss the opportunity to go to Montseny. This is one of the best known natural parks in Catalonia and is only about 40 kilometers from Vic. The ideal distance for a short excursion in the open air. Mountain enthusiasts will have a great time.
Are you looking for a cheap car hire in Vic to travel around the area at your leisure? Just go to our website and use our online comparator. In a few minutes you will find the type of car you need at an unbeatable price.
Where can I pick up and drop off my cheap car rental in Vic?
You can pick up and drop off your rental car at the Furauto offices in Vic, select another of the municipalities available in the province of Barcelona and even choose any other Spanish city. At Furauto we are committed to offering you maximum flexibility at an affordable price. Enter the search engine and design a trip to your needs.
How to get to Vic
If you like to travel by plane, you should know that the Prat-Barcelona Airport is located 70 km from Vic and Girona Airport is 60km away. By train you can reach Barcelona, Ripoll, Puigcerdà and Hospitalet.
On the other hand, there are three bus operators that make the routes Barcelona-Vic, Olot-Vic and Lleida-Girona with a stop in Vic.
In case you decide to drive your rental car in Vic or your private vehicle, you will have to access the city through the following roads:
C-17: Barcelona-Puigcerdà.
C-25: Transversal Axis.
C-37: Vic-Olot.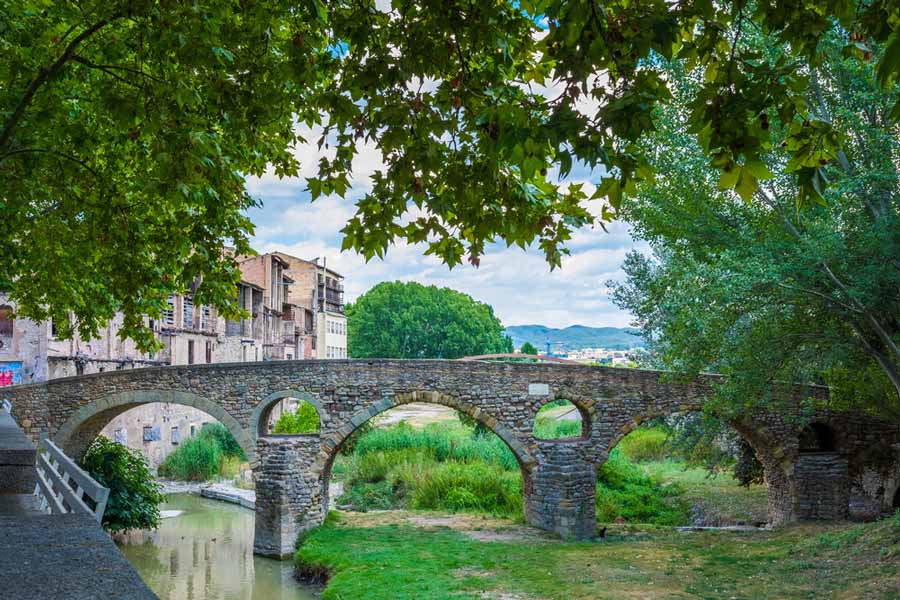 Tolls to take into account with your rental car in Vic
You will come across several toll roads on your way to Vic. Most of them have parallel free routes and national roads, although they are in worse conditions.
AP-7: La Jonquera-Tarragona
AP-2: Zaragoza-Barcelona
C-32: Montgat - Blanes / Castelldefels - El Vendrell
C-33: Barcelona - Montmeló
Parking your rental car in Vic
In the municipality of Vic you can find green areas exclusively for residents, parking areas for surface rotation (blue zone) and orange spaces where you can park for a maximum of four hours. From Furauto, however, we recommend that you park your vehicle in one of the parking lots that we show you in the following link.
Sightseeing with your rental car in Vic
You will fall in love with the city of Vic. Get into one of Furauto's rental cars and get lost in its streets. If you do not know where to start, here are 10 ideas about places to visit:
El Mercadal: Porticoed main square that houses the Casa Beuló, the Town Hall and the Casa Natal de Sant Miquel dels Sants.
Cathedral: Dedicated to St. Peter the Apostle, it is located in the historic center of the city. It has a mixture of Romanesque, neoclassical and baroque styles.
Roman Temple: Dates from the 2nd century, although it was rebuilt in the 19th century.
Castle of the Montcada: Located on top of the Roman Temple, it dates from the 11th century, although few remains remain, since it was demolished.
Episcopal Palace: A 17th century building that still shows traces of the old 12th century construction.
Episcopal Museum: One of the most complete museums in Spain with an outstanding collection of medieval objects.
La Muralla: 12th century fortification with extensions from two later centuries.
Queralt Bridge: 11th century building over the Mèder river.
Other Religious Centers: Visit the Church of La Piedad, the Church of Los Dolores and the Church of Sant Antonio María Claret.
Great Mansions: Do not miss the Casa de los Cortada, Casa Galadies, Casa Ramón Salà, Casa Bayés and Casa Parrella.
Get to know the Province of Barcelona by car
Visit the Natural Park of Montseny and the villages of the Costa Brava. Do not miss Barcelona, Sitges, Canet de Mar, Malgrat de Mar, Montserrat, Santa Susanna, Terrassa, Vilanova i la Geltrú, Arenys de Mar and Sant Saduni d'Anoia.