Find your cheap car rental in Valladolid in a few minutes using Furauto's online comparator. Book, pick up and drop off your vehicle in a fast and economical way without leaving home.
Explore Valladolid with your rental car
Welcome to Valladolid, a city where you will find all the culture, fun and relaxation you were looking for. An ideal place to stroll around, admire impressive monuments or taste the best gastronomy.
The city of Valladolid is inhabited by some 300,000 inhabitants, a figure that makes it the first most populated municipality in the northwest of the country. However, this is not the most outstanding feature of the city, as Valladolid is especially famous for its rich history and its list of religious monuments dating back to the Middle Ages.
Valladolid as a city was not established until the arrival of Pedro Ansúrez in 1072. It attained great power under Charles I, who made Valladolid the capital. It also held this title between 1601 and 1606, when the powers were transferred to Madrid.
In this city the Catholic Monarchs were married and Enrique IV, Felipe II, Felipe IV and Ana de Austria were born. And the list of important events continues. Christopher Columbus died here, Cervantes finished Don Quixote and José Zorrilla was born and lived here.
If you feel like seeing a really curious festival, you can visit the International Film Week of Valladolid known as SEMINCI or come to the town when the Pingüinos motorcycle rally takes place. Be careful, during this event the traffic in the city is complicated so you should take extreme precautions when you get into your rental car.
How much does a cheap car rental in Valladolid cost?
The price of a rental car in Valladolid varies depending on the time of the year. If you want to get an idea of the amount you will have to pay for your car, the best thing to do is to use our online comparator. Remember that it is advisable to make your reservation in advance to avoid availability problems.
Where can I pick up and drop off my rental car in Valladolid?
Furauto offers you the possibility to pick up and drop off your rental car at the Valladolid train station as well as at other points of interest. Our goal is that you enjoy maximum mobility during your trip. Check our search engine and select the places that best fit your itinerary.
How to get to Valladolid
By plane it is possible to reach the capital of Valladolid easily from Barcelona, Lanzarote, Las Palmas de Gran Canaria, Palma de Mallorca and Tenerife. Flights to the islands operate only during the summer season.
Picking up your rental car at Valladolid airport is a great alternative to have your car at your disposal from the very moment of your arrival. Valladolid-Villanubla airport is only 10 kilometers away from the city.
As far as the bus station of Valladolid is concerned, you should know that it is located in Calle del Puente Colgante. From here you can travel to other towns of the province, to several peninsular localities and to other international destinations in France, Switzerland, Holland, Belgium, Great Britain and Germany.
The Valladolid-Campo Grande Station also connects the capital with the most important towns in Castilla y León, Madrid, Barcelona, Santander, Bilbao, etc. By AVE it is possible to travel to Madrid, Palencia and León.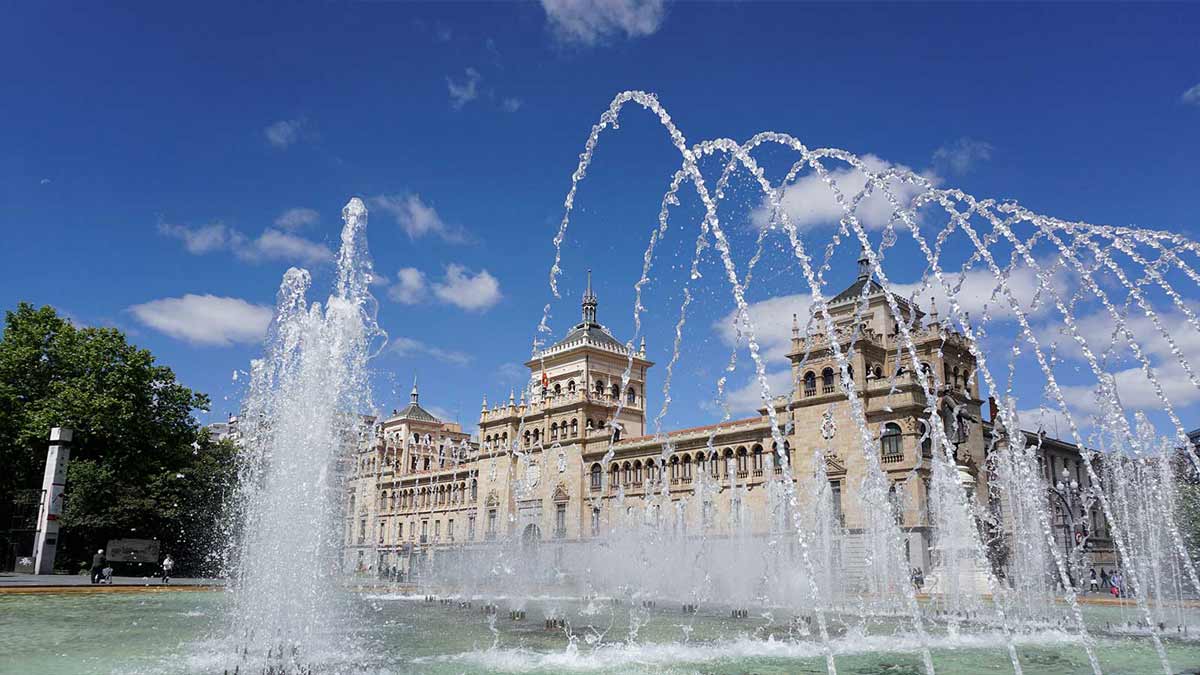 If you prefer to travel by road with your own vehicle or rental car, it is convenient to know the main access roads to Valladolid:
A-6. Northwest Highway: Joins Madrid with La Coruña crossing Castilla y León.
A-11. Autovía del Duero: It will connect the east and west of the northern half of Spain without passing through Madrid or the Cantabrian Sea.
A-60: Highway from Valladolid to León.
A-62. Castilla Highway: It runs from Burgos to Fuentes de Oñoro (Salamanca).
A-601. Pinares Highway: Starts in Valladolid and ends in Segovia.
N-601: It starts in Madrid and ends in Gijón. It passes through Adanero (Ávila), Valladolid and León.
VA-11: Eastern access to Valladolid.
VA-12: Boecillo - Laguna de Duero - Valladolid.
VA-20. Valladolid East Ring Road: Second beltway of the city.
VA-30. Valladolid outer ring road: Ring road.
Driving your rental car in Valladolid
Driving around Valladolid is not difficult at all. However, on weekends there may be a greater number of traffic jams due to the fact that this is a regional capital with a great university life.
Where to park your rental car in Valladolid
Parking your rental car in Valladolid is a somewhat complex but not impossible task. The city has regulated parking areas, being the ninth most expensive blue zone in Spain. Therefore, from Furauto we recommend that you leave your vehicle in one of the public or private parking lots in the city.
Excursion with your rental car in Valladolid
At Furauto we want your stay in Valladolid to be memorable. For this reason, we recommend 10 of the most fascinating places in the city that you can visit with your rental car:
Campo Grande: Green lung of Valladolid. In its 11.5 hectares coexist a wide variety of animals and plants. Once here, visit the statue of Miguel Íscar, El Fotógrafo (The Photographer) and the Fuente de la Fama (Fountain of Fame).
Plaza Mayor: The heart of the city houses the Town Hall, the Church of Jesus and the Zorrilla Theater, located on the former Convent of San Francisco.
Cathedral of Nuestra Señora de la Asunción: It was designed by the architect Juan de Herrera under the orders of King Felipe II. It is still unfinished.
Church of Santa María de la Antigua: In spite of having a Romanesque tower, the rest of the building is of Gothic and neo-Gothic style.
Church of San Pablo: In this temple the kings Felipe II and Felipe IV were baptized. It was also visited by Napoleon. The building, which was built between 1445 and 1616, belongs to the order of preachers.
Royal Sites: This is the name given in Valladolid to the Royal Palace and the Palace of Pimentel, which currently houses the Provincial Council.
Calle de la Platería: Magnificent example of 16th century architecture. In this same street San Pedro Regalado was born in 1390, the patron saint of Valladolid.
Museums: Do not miss the National Sculpture Museum, the Diocesan and Cathedral Museum, the Museum of Valladolid and the Patio Herreriano Museum of Spanish Contemporary Art.
House-Museum: Here you can also find the House-Museum of Cervantes, Zorrilla and Colón.
Bridges: The city has numerous bridges that cross the course of the Pisuerga River. Among them are the Cabildo Bridge, the Puente Mayor (Main Bridge) and the Isabel la Católica Bridge.
Get to know the Province of Valladolid by Car
Drive through the geography of Valladolid without forgetting to stop in Simancas, Peñafiel, Urueña, Transpinedo, Medina del Campo, Medina de Rioseco, Íscar, Tordesillas and Trigeros del Valle.