In Furauto we take care that you find the rental car you want in Madrid in a simple and economical way. Pick up and drop off your vehicle taking advantage of our extensive network of offices in the capital and the Community of Madrid.
Discover Madrid by rental car

Welcome to Madrid, the capital of Spain. This city perfectly combines the leisure offer of a large European city with the activity of the largest business center in the south of the continent.
Are you in the middle of a business trip? Have you come for the pleasure of visiting unique places? Whatever the reason for your stay in the capital remember that Furauto is the solution if you are looking to hire a cheap car rental service in Madrid.
The origin of the name Madrid comes from the Arabic Magerit which means land rich in water. Currently has approximately 3.1 million inhabitants and has the historical category of Villa since Philip II in the sixteenth century erected it as the capital of the Kingdom.
Madrid's Paseo del Prado as one of the epicenters of museums around the world. And how could it be otherwise, here is the headquarters of most government buildings in the country as well as the headquarters of large companies. In short, there is a lot to see in Madrid.
How to get to Madrid by rental car
In addition to train or plane, getting by car to Madrid by rental car is easy. The road system of our country has its epicenter in the capital so communications are unbeatable. Here are the main accesses to the city:
A-1. Madrid-Irun. Northern highway
A-2. Madrid-Barcelona. Aragón highway: It also runs along the Henares corridor as well as access to the airport.
A-3. Madrid-Valencia. Valencia Highway: The best access from the Mediterranean.
A-4. Madrid-Sevilla. Freeway of Andalusia
A-5. Madrid-Badajoz. Highway of Extremadura: The chosen one if you come from or want to go to Portugal as well.
A-6. Madrid-A Coruña. A Coruña Highway
Where can I pick up and drop off my rental car in Madrid?
With Furauto you can pick up your rental car at the busiest stations and nerve centers, just look for the point that best suits you in our search engine. And of course, also at the Adolfo Suarez-Barajas International Airport.
Can I rent a car at Madrid Airport?
Of course you can. We have offices at the Adolfo Suarez-Barajas International Airport so you can have your car at your disposal after landing in Madrid. You will be able to enjoy the freedom of movement that a rental car gives you almost as soon as you arrive.
What if I want to book a long term car rental in Madrid?
In Furauto we have designed different services to meet the needs of our customers. If you want to hire a van rental for months in Madrid just contact our team and we will advise you about the different options that are available to you.
Is it possible to hire a 9-seater car rental in Madrid?
Of course you can. Check our 9 seater car rental section for more information.
Tolls to consider in Madrid and surroundings
Renting a cheap car in Madrid has many advantages but whenever we talk about road travels we must take a look at the main tolls in the area. If you are going to visit any of the towns around Madrid you will be interested in knowing some of the most important tolls:
AP-41: Madrid-Toledo
R-2: Madrid-Guadalajara
R-3: Madrid-Arganda del Rey
R-4: Madrid-Ocaña
R-5: Madrid- Navalcarnero
Parking in Madrid with your rental car
Parking your rental car in Madrid can become an ordeal so we recommend you to know well the map of public and private parking lots in the capital shown in this link.
In addition, you should keep in mind that there are several regulated parking areas outside the city, which are differentiated by:
Blue spaces: preferentially intended for visitors, with a maximum parking time limitation of two hours.
Green spaces: preferably for residents who have paid the annual fee. Visitors may park for a maximum of one hour.
Finally, you must take into account the residential priority areas. There are 4: Ópera, Cortes, Letras and Embajadores which have limited traffic.
Sightseeing in Madrid with your rental car
Would you like to book a rental car for a weekend in Madrid? In Furauto we want to help you to make the most of those days off so do not hesitate to examine our fleet of vehicles.
Here are some places you can not miss if you come to Madrid so you can plan your routes by car: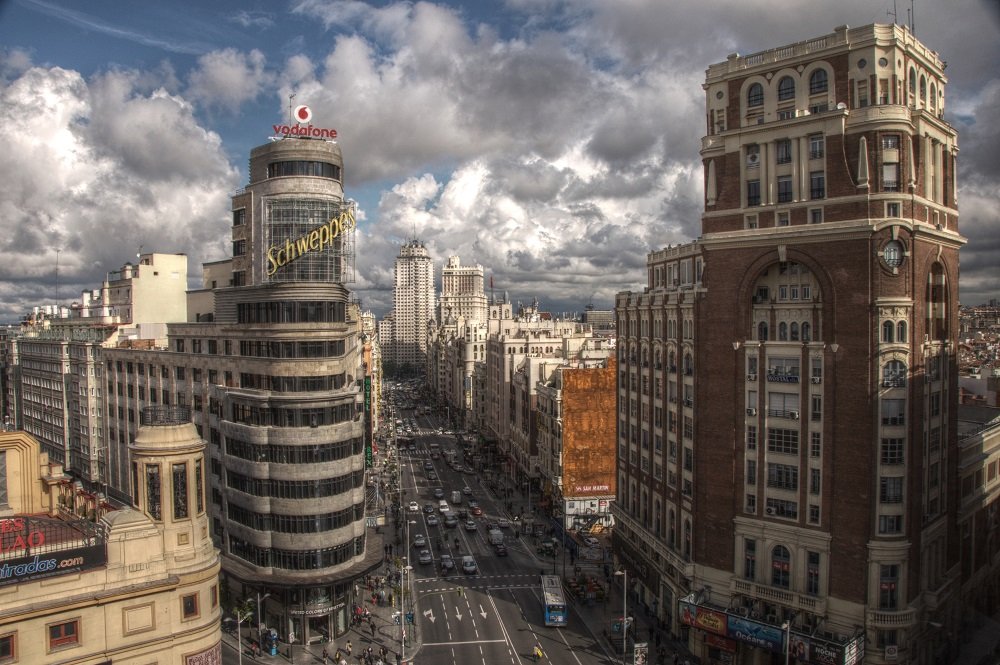 Paseo del Arte: The Prado Museum, the Thyssen or the Reina Sofia Museum are waiting for you... and it is advisable to book in advance on their website to avoid queues.
Cibeles Palace and Plaza de Cibeles and Puerta de Alcalá: one of the classic epicenters of the capital, with the City Hall, just before starting the Paseo del Prado and also very close to the Retiro Park
Retiro Park: very close to the Museums, Cibeles, and next to the Puerta de Alcalá, a walk through one of the largest and most historic parks in Europe is well worth it.
La Gran Vía: Iconic shopping center, do not hesitate to stroll along this great artery.
Sol, Barrio de las Letras, Plaza Mayor and the historic center: Good places for tapas and a walk through the most classic Madrid.
Opera and the Royal Palace: The royal residence for centuries of the kings of Spain is a recommended visit, also for its incredible surroundings.
Santiago Bernabeu Stadium: the temple of Madridism.
Temple of Debod: An Egyptian temple from the 2nd century B.C. donated to Spain during the construction of the great Aswan Dam, in the center of the city. It is worth a visit.
The flea market: if you are in the city on a Sunday you can visit one of the largest flea markets in Europe.
Plaza de Toros de las Ventas: A must for bullfighting lovers.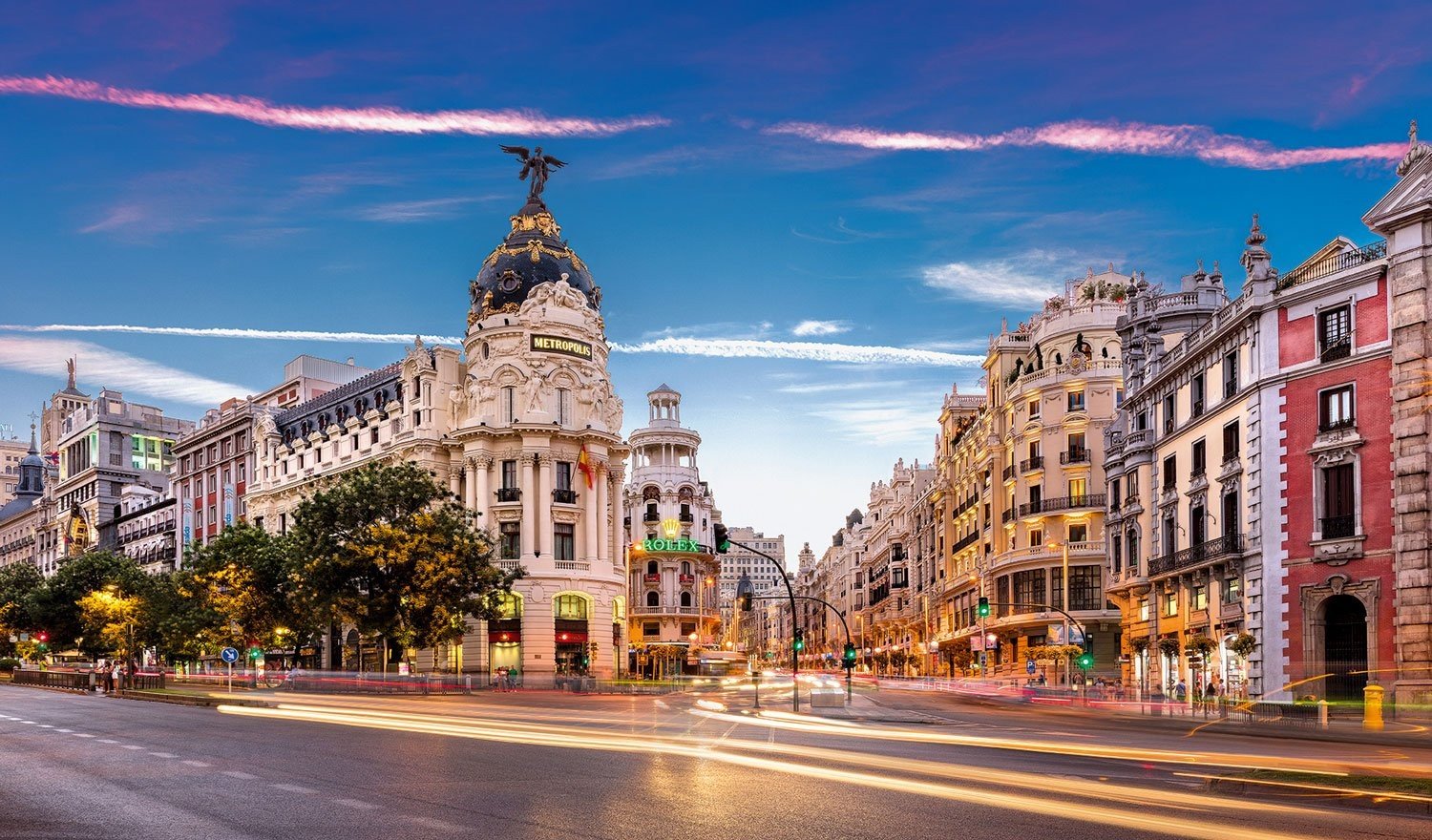 Get to know the Community of Madrid by car
Alcalá de Henares, the birthplace of Cervantes, El Escorial, the Sierra Madrileña, Pinto or Aranjuez and its royal villa are other destinations that you have very close by car and you can not miss.