Get to know Ciudad Real with your rental car
Welcome to Ciudad Real, the land of Don Quixote. A small city that will make you enjoy the best party, tradition and archeology. Capital of Valdepeñas wines, it has seen Don Quixote, Sancho Panza and Cervantes himself walk among its landscapes.
Ciudad Real, located in the heart of Campo de Calatrava, has more than 74,000 inhabitants. Its economy is sustained by fishing, hunting, livestock, agriculture and tourism. The ingenious nobleman Don Quixote de la Mancha, the windmills, its cheese and its wines have made this region known worldwide.
Although it is a very small town, it offers culture, good gastronomy, traditions and many places to visit. Some examples are the Museum of Don Quixote, the Cervantine Library or the Casa del Arco.
And if you are interested in the typical festivities you can not miss La Pandorga, declared of Regional Tourist Interest, takes place the last three days of July. Within this celebration takes place the "zurra". On July 30 Ciudad Real witnesses a real pitched battle while it is stained with wine.
As you can see there is a lot to do here. Booking your rental car in Ciudad Real with Furauto is the best way to say goodbye to transportation problems and travel with total freedom. Our vehicles are spacious, modern and comfortable, get yours at an unbeatable price!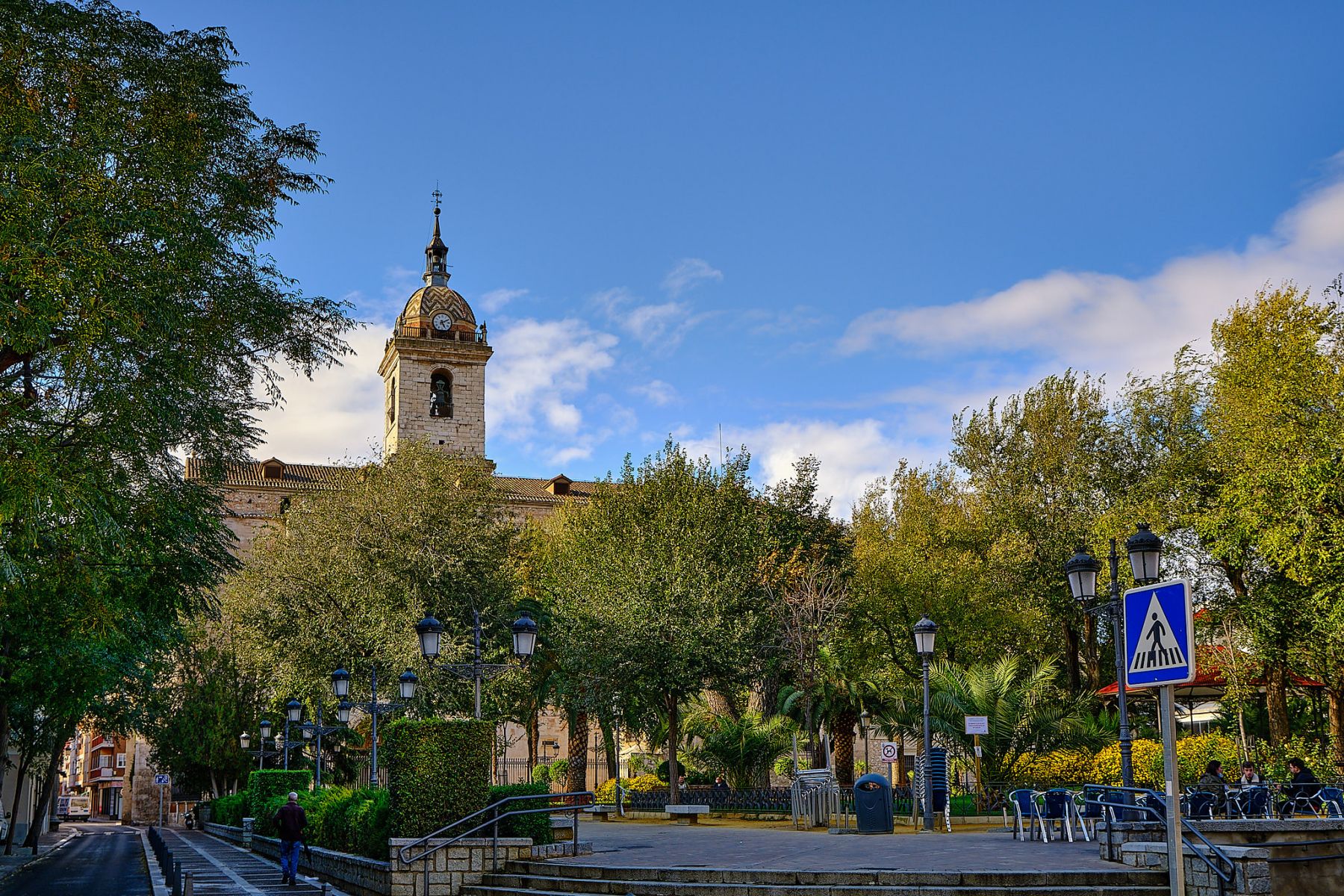 How to get to Ciudad Real
This city is very well connected thanks to the High Speed Train network. You can arrive from Puertollano in 15 minutes, from Madrid in 56 minutes and from Cordoba in one hour. In addition, there are also AVE routes from Ciudad Real to Cuenca, Seville, Barcelona and Valencia.
The bus also links the capital of Ciudad Real with other municipalities in the province, Toledo, Albacete, Cuenca, Madrid, etc.
If you decide to use your rental car in Ciudad Real you will have several options to get here by road. These are the busiest accesses:
N-401. Burguillos (Toledo) - Ciudad Real: If you are coming from Madrid or northern regions.
A-43. Valencia-Ciudad Real-Mérida. Highway of Extremadura: It arrives to Ciudad Real by the road of Miguelturra.
A-41. Ciudad Real - Puertollano highway.
E-903.

Torrefresneda

(Badajoz

) -

Puerto de Alicante

: It crosses the center of Ciudad Real.
N-420. Córdoba - Tarragona: Accesses Ciudad Real from Poblete and Carrión de Calatrava.
N-430. Badajoz - Albacete: Enter Ciudad Real through Piedrabuena/Alcolea de Calatrava.
Where can I pick up and deliver my car?
With Furauto you can pick up your rental car at the AVE station in Ciudad Real as well as in other important points of the city. Use Furauto's online search engine to reserve your vehicle at the location that best suits your needs.
Can I rent a 7-seater car in Ciudad Real?
Of course you can. However, we recommend that you make your reservation in advance to avoid availability problems on the dates you want. Don't forget that there are times of the year when the demand for vehicles increases. In case you need to make a specific inquiry do not hesitate to contact the Furauto team through the web or by phone.
How much does it cost to rent a car in Ciudad Real for a month?
At Furauto we have a long term car rental service. You can take a look at the available models and their characteristics by entering our web page. Making your reservation online is simple and cheap.
Park your rental car in Ciudad Real
Leaving your rental car in Ciudad Real in the center of the city for free is practically impossible. The blue and orange zone covers most of the old town and the commercial area of the city. Remember that the streets in the center are usually narrow and there is a lot of traffic, so it can take you a long time to find parking. Our advice from Furauto is to leave the vehicle in the parking lot of the train station or in the Plaza Mayor. If you do not want to pay, you may have to try to park outside the center and walk about 10 or 15 minutes.
Sightseeing in Ciudad Real with your rental car
There is nothing better than having a cheap rental car in Ciudad Real to discover all its charms. However, you will need to plan your visit so you don't miss anything. Here we show you the Top 10 places and activities that you should not miss.
Catedral de Nuestra Señora del Prado: It is the second largest single nave church in Spain and was declared a cathedral in 1980.
Church of San Pedro: The most beautiful religious building in the capital, Gothic style and built between the fourteenth and fifteenth centuries.
Other places of worship: visit the Church of Santiago, the Church of La Merced and the Church of Los Remedios.
Convents: It is worth visiting the Convent of the Conceptionists and the Convent of the Discalced Carmelites, the latter having been of Cultural Interest for 25 years.
Plaza Mayor: Here you can find the Town Hall and La Casa del Arco with the carillon clock of Miguel de Cervantes.
Paseo del Prado: Square where you can find the Old Casino, Hospital and Conservatory. This emblematic building is today a multi-purpose cultural center (http://www.ciudadreal.es/turismo/qu%C3%A9-ver-en-ciudad-real/antiguo-casino-de-ciudad-real.html).
Puerta de Toledo, Torreón del Alcázar and Puerta de Santa María: Three of the gates that are still standing from the fortification built by King Alfonso X in 1255.
Hospital de la Misericordia: Located in the Plaza de España, it currently houses the rectorate of the University of Castilla La Mancha.
Green areas: Enjoy the outdoors in the Green Way, Gasset Park, Juan Pablo II Park, Pilar Park and Atocha Park.
Provincial Museum: Within these walls are kept archaeological and paleontological remains found in this area of La Mancha. It is worth visiting the Anancus Arvernensis, a spectacular mastodon found in the site of Las Higueruelas.
Get to know the Province of Ciudad Real by Car
Pedro Muñoz, Santa Cruz de Mudela, Almagro, Villarrubia de los Ojos, Almaden, Campo de Criptana, Villanueva de los Infantes, Valdepeñas and Alcazar de San Juan are other beautiful towns you can visit in the province of Ciudad Real. If you like to interact with the environment, you will surely also enjoy the Tablas de Daimiel, the Lagunas de Ruidera, Cabañeros and the Archaeological Park of Alarcos.