In Furauto we take care that you find your rental car in Barcelona in a simple and economical way. Pick up and deliver your vehicle taking advantage of our extensive network of offices in Barcelona and throughout Catalonia.
Travel to Barcelona with your rental car
Do you need a rental car in Barcelona for sightseeing or business purposes? Getting to know one of the most culturally rich and cosmopolitan cities in Europe is very convenient if you have your own means of transportation. Choose your car with Furauto and discover the Catalan capital.
With a population of 1.6 million inhabitants, Barcelona is the second largest city in Spain and one of the main cities of the Mediterranean. Its maritime character has historically given the city an enormous importance, which today remains in force as a business center, especially in areas such as logistics, shipping, tourism or technology.
Barcelona also has an important tradition as a hub for congresses and events, from the Universal Exposition of 1888, the International Exposition of 1929, the1992 Olympic Games and the Universal Forum of Cultures 2004, to the current Mobile World Congress.
And as if this were not enough, the city of Barcelona is full of emblematic places that delight visitors. Walking along Las Ramblas or contemplating the mark left by Gaudí's art are just some of the activities you can do.

How to get to Barcelona
In addition to the AVE train or plane, it is easy to get to Barcelona by car from all points of the Mediterranean, as well as from Madrid and the south of France. Here are its main accesses:
The French freeway and road network connects with the AP-7, N-II and C-32 to Barcelona.
From the south, if arriving from the rest of the country, it connects with the AP-7 freeway and the C-32, entering Barcelona via Avinguda Diagonal.
Where can I pick up and drop off my rental car in Barcelona?
With Furauto you can pick up your vehicle at strategic points in the city. Nothing more convenient than going to our car rental offices in Barcelona Sants Station and Barcelona Prat Airport. Choose the point that best suits you in our search engine.
How to choose a 7-seater car rental in Barcelona?
Booking a 7 seater car rental in Barcelona is very simple and fast using the online comparator of Furauto. Select the dates on which you will need your vehicle and where you prefer to pick up and drop off the car. If you prefer a personalized attention remember that you can always contact our office by phone.
Do I have to reserve my rental car in advance?
At Furauto we are always ready to provide you with a cheap car rental in Barcelona. However, there are certain dates when the demand soars so it is advisable that you make your reservation in advance so you do not run out of your vehicle at the wrong time.
Tolls to take into account in Barcelona
When taking your rental car in Barcelona you should know that Catalonia is one of the areas of Spain with more tolls. Many of its roads are newly built and are very well conditioned.
In practically all the accesses you will have to pay something, whether you arrive from Madrid / Zaragoza with the AP-2, from France by the C-32, or taking the AP-7 from the south and the Mediterranean. In this website you can get an idea according to your route.
How is the traffic in Barcelona?
If you go by car between 7:30 and 9:30 in the morning or between 18:00 and 20:00 in the evening you should be prepared to suffer some traffic jams or slow traffic in the Diagonal or Meridiana avenues.
Parking your rental car in Barcelona
In Barcelona there are numerous parking lots where you can park your rental car. Many of them are located in the city center and the rates are around 2 to 3 € / hour and around 35 € for a day.
There are also on-street parking areas (blue and green zones) with rates varying according to the area of Barcelona. As in all cities, you have to be patient when it comes to parking in certain places, but having a map of parking lots at hand will not hurt.
Sightseeing in Barcelona with your rental car
Barcelona is a city to live it. Let yourself be seduced by its markets, streets and parks. Even so, if you are one of those who like to have everything planned, here is a Top 10 of places to consider.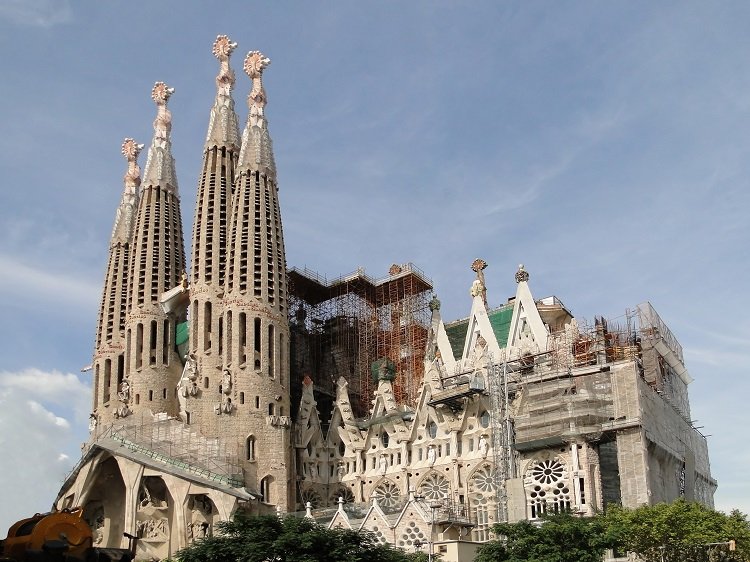 Gaudi's Sagrada Familia: The huge unfinished cathedral. Iconic image of the city, its stained glass windows and implausible shapes will make you see something that, of course, you can not see anywhere else in the world. Of course, book in advance.
Park Güell: For the last couple of years there has been a charge for access. However, it is worth seeing this huge park also composed of figures of the Catalan architect
Casa Batló and La Pedrera: Another of the masterpieces. How much Barcelona owes to Antonio Gaudí
The Gothic Quarter: One of the oldest areas of the city with narrow streets to stroll through and good places to eat.
La Boqueria market: In the middle of the Ramblas, where you can stroll, this market brings you all the flavor of the Mediterranean.
The Camp Nou: A temple par excellence for soccer fans (unless you are a Madridista).
Tibidabo: A short trip to this mountain on the outskirts of Barcelona will give you great views.
Montjuic: with its huge park and the Pueblo Español, a relic of the Expo that leaves samples of all the cultures of Spain.
Basilica of Santa Maria del Mar: Built between 1329 and 1383, Santa Maria del Mar is a beautiful basilica considered the best and most complete example of Catalan Gothic architecture.
The Zoo: One of the largest zoos in Europe awaits you.
Get to know the province of Barcelona by car
By car you can make several routes from Barcelona, such as visiting the Monastery of Montserrat and its surroundings where the Black Virgin is, go to Tibidabo, move comfortably to the Zoo, or go to Port Aventura, one of the largest and best known amusement parks in the world. In addition, you can visit other important towns in the province, such as Mataró, Tarrasa, or Badalona.