Book your rental car in Almeria with Furauto at a very competitive price and with all the guarantees. You can pick up and deliver your vehicle at any of our offices in the capital or in other locations in the province of Almeria.
Get to know Almeria with your rental car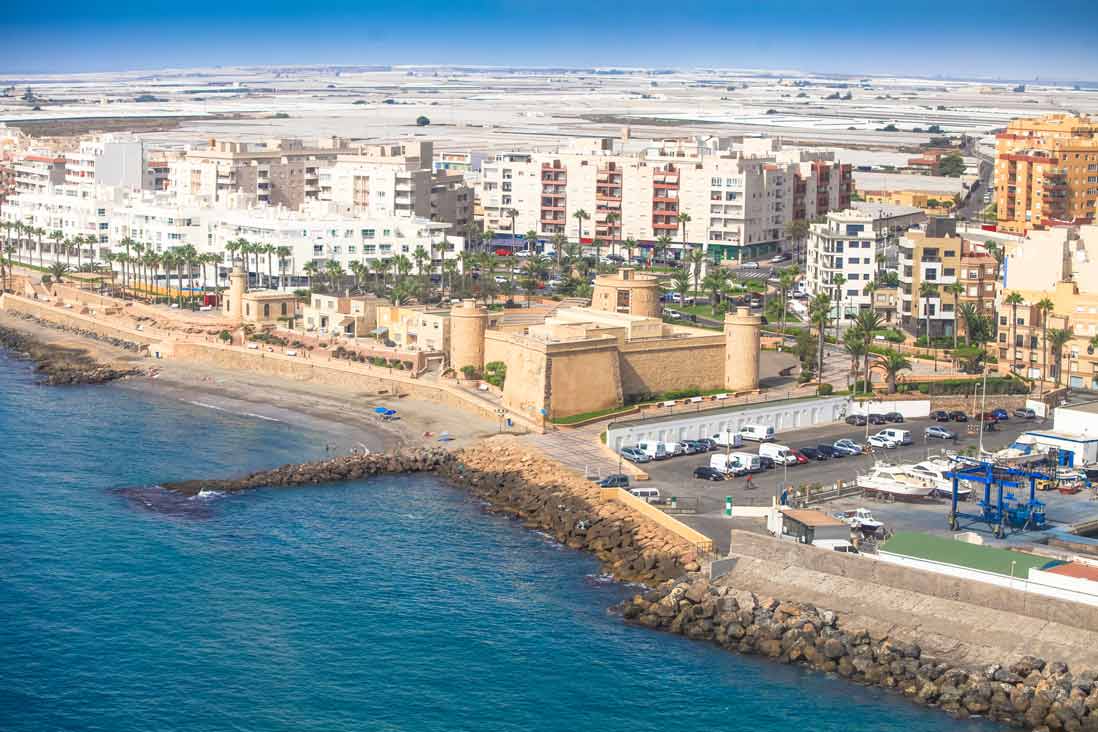 Welcome to Almeria, land of Western. A city that will give you the perfect dose of culture, tourism, gastronomy, sun and beach. A place where the Muslim and Christian cultures intermingle with the mining industry to create a unique atmosphere.
Almeria, with almost 94,000 inhabitants, is a city in expansion. Host of the Mediterranean Games in 2005, it awaits the inauguration of an AVE high-speed train line and the inauguration of the Science and Technology Park.
Its maximum symbol, the indalo, was a cave figure found in the locality of Vélez-Blanco. It is now a tradition for tourists to take this souvenir with them when they visit the Almeria region.
Almeria capital has one of the most impressive monuments of Arab culture, the Alcazaba. It is worth enjoying a few days in this land to soak up its culture and contemplate the beauty of its beaches.
Booking a cheap car rental in Almeria is very fast and convenient using Furauto's online car rental comparison tool. Select the dates and cities where you wish to pick up and drop off your vehicle and we will show you the models of our fleet that are available at an economical price. No paperwork and no hassle.
How to get to Almeria
Almeria airport is connected to the most important Spanish, European and North African capitals. For this reason, it is not surprising that many people choose to pick up or drop off their rental car at Almeria Airport for greater convenience during their stay in this Andalusian city.
On the other hand, the port of Almeria receives visitors on a daily basis with cruise ships from all over the world. There are regular trips with the port of Melilla, Morocco and Algeria. This makes the port of Almeria an important point as far as the influx of tourists is concerned.
Train lovers can also reach the capital of Almeria thanks to RENFE and its railroad network. Lines from Linares-Baeza, Sevilla-Santa Justa and Madrid-Chamartín arrive at the station. Being an intermodal station, it also has a bus stop. This means of transport will allow you to reach Madrid, Barcelona, Granada, Granada, Murcia, Malaga, Jaen, Seville and several cities in Almeria and France.
If you prefer to travel to Almeria with your rental car you can reach the city by the Mediterranean highway or the A-92 if you are coming from Granada.
Where can I pick up and drop off my rental car in Almeria?
With Furauto you can pick up your rental car at the train station in Almeria or at the airport as well as at the bus station in the city. Check our search engine to select the location that best suits your travel itinerary.
Can I rent a car in Almeria for a week?
Yes, you only have to select the dates in the calendar of our comparator to see the rental cars that we can offer you at that moment. Making your reservation with Furauto is that easy and fast.
How much does gasoline cost in Almeria?
Although the price of gasoline is something that varies over time as a guide we can say that filling the tank of your rental car costs between 50 € and 70 €. Remember that with Furauto's full/full policy you will only pay for the gasoline consumed by your vehicle when you use it.
Where to park your rental car in Almeria
The widening of sidewalks and the creation of several pedestrian zones in the center is making parking in Almeria more difficult. However, leaving your rental car on the street for free is still possible but may cost you some time. Also, keep in mind that many areas are regulated in blue zone. From Furauto we recommend you to leave your car in a public or private parking to avoid problems.
If you do not want to pay to find parking the other solution could be to park in remote areas of the center, about 15 or 20 minutes walk. More information about where to park
Discovering Almeria with your rental car
If you have time to get into your rental car in Almeria and do some sightseeing you will surely find interesting our suggestions on 10 must-see places to visit:
Alcazaba of Almeria: The second largest Arab construction in Spain, after the Alhambra in Granada, has more than 1000 years of history and will allow you to have the best views of the city.
Religious centers: It is worth visiting the Cathedral of Almeria, the Church of San Pedro, the Church of Santiago, the Church of San Sebastian and the Convent of Las Claras.
Roquetas de Mar: If you decide to book a rental car in Roquetas de Mar you will be able to see incredible places such as the Roquetas Aquarium, the Santa Ana Castle or the Natural Park Punta Entinas- Sabinar.
Museo Refugio de la Guerra Civil: Underground galleries created by the architect Guillermo Langle Rubio. The visits are guided and it is necessary to ask for previous appointment.
Train Station and English Cable: Two of the symbols of the city and examples of its past in the mining industry.
Plaza Vieja: Visit the Plaza de la Constitución, the Monument to the Martyrs of Liberty and the City Hall.
Stroll through the center: Walk through the beautiful streets that will take you to the Apolo Theater, the Central Market and the Butterfly Building.
Avenida Federico García Lorca and Plaza de las Velas: Where you can enjoy a peaceful and quiet walk.
Nicolás Salmerón Park: A beautiful urban park located parallel to the sea.
Port, Maritime Lighthouse and Beaches: You cannot leave Almeria without having enjoyed its sea.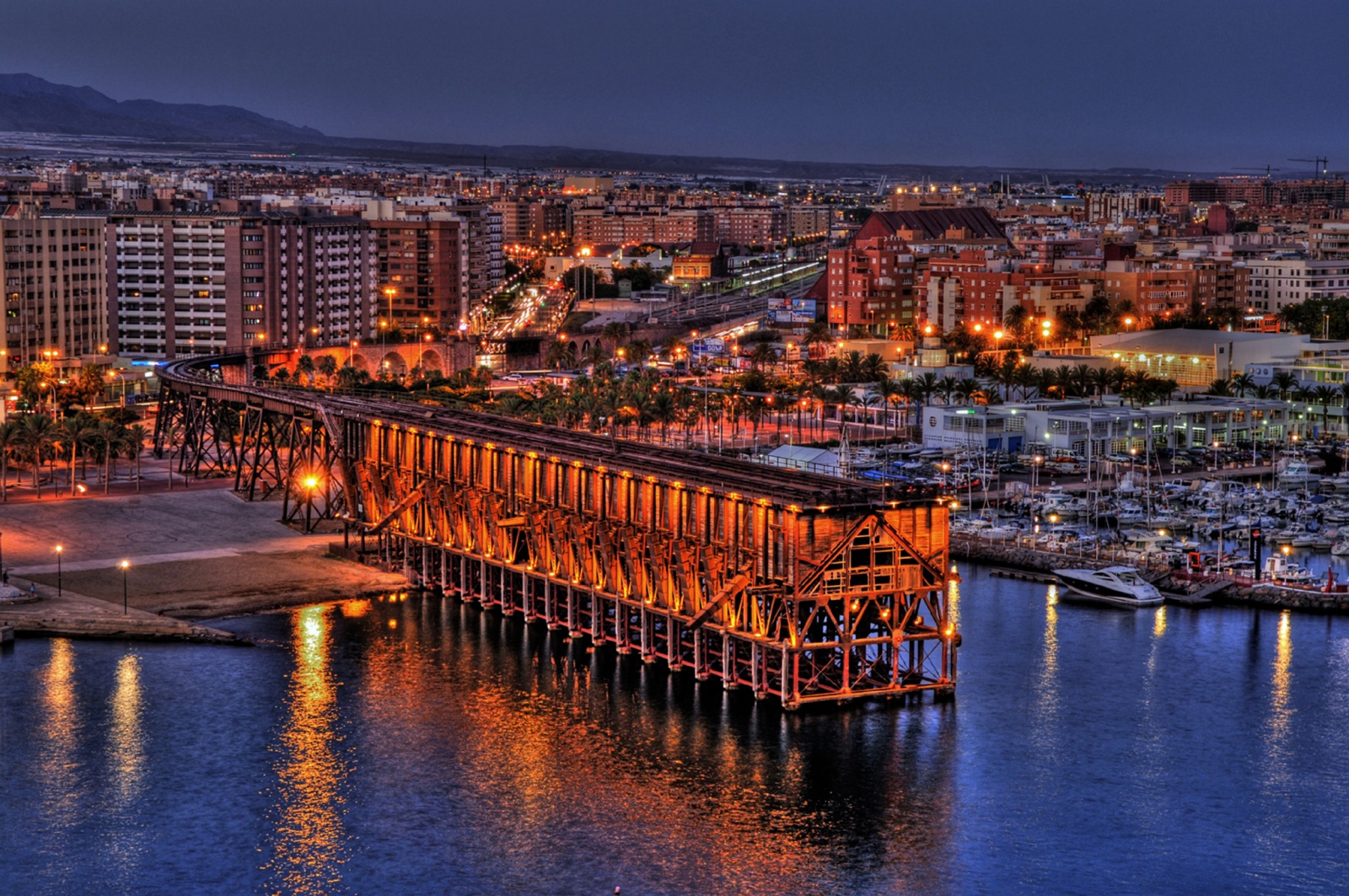 Get to know the Province of Almeria by Car
Roquetas de Mar, Laujar de Andarax, Sorbas, Mojacar, Velez-Blanco, San Andres Island, the Natural Park of Cabo de Gata-Nijar or the Tabernas Desert are other beautiful places you can visit in the province.