In Furauto we want you to find the rental car in Albacete that best suits your trip to La Mancha. Pick up and drop off your vehicle in an easy and economical way taking advantage of our extensive network of offices.
Get to know Albacete with your rental car
Welcome to Albacete, the largest city in Castilla-La Mancha. During your visit to this capital you will be able to enjoy an excellent culture, a deep-rooted tradition and a gastronomy worthy of gentlemen. Keep reading this practical guide that we have prepared for you from Furauto and get the most out of your trip.
Besides being the largest, Albacete is the most populated city of Castilla-La Mancha, since more than 172,000 Albacete inhabitants live in this capital.
"The New York of La Mancha", as Azorín portrayed this city, had its first neighbors in the Bronze Age. Although the Iberians and Romans also populated this area, it was the Muslims who endowed it with greater power. The first name of the city may have been Al-Basit, translated as "The Plain".
If you want to visit the city, do not miss the Albacete Fair, considered of National Tourist Interest. Also worthy of special mention are the Pepe Isbert National Theater Awards, the celebrations in honor of the Virgen de los Llanos and its Holy Week.
Do you want to hire your rental car in Albacete at a very competitive price? Nothing easier than to enter the Furauto website and complete a short form with the booking details. Get a modern vehicle with all the features to make your trip more comfortable in just a few minutes.
How to get to Albacete
It is possible to travel to Albacete by plane (through its Airport), bus or train. High-speed trains arrive at Albacete-Los Llanos Station from Madrid, Cuenca, Ciudad Real, Valencia, Alicante, Segovia, Valladolid, Palencia, Oviedo, Gijón, Santander, Barcelona, Tarragona, Castellón, Granada, Badajoz, Cádiz, Jerez, Málaga, Sevilla, Córdoba, Guadalajara and Zaragoza.
If you prefer to enjoy your car rental in Albacete traveling by road below are some of the roads you should know:
A-30. Murcia Highway: Connects Albacete, Murcia and Cartagena.
A-31. Alicante Highway: Connects Madrid with Alicante passing through Albacete.
A-32. Andrés de Vandelvira Highway: Connects Bailén (Jaén) with Albacete.
A-35: It starts in Almansa (Albacete) and ends in Játiva (Valencia).
A-43: Connects Torrefresneda (Badajoz) with Atalaya del Cañavate (Cuenca).
N-430: Spanish national highway that crosses from Badajoz to Játiva (Valencia) passing through Ciudad Real and Albacete.
N-322: It crosses the capital of Albacete on the route Córdoba, Bailén (Jaén) and Requena (Valencia).
Where can I pick up and drop off my rental car in Albacete?
You can pick up and drop off your rental car in Albacete at any of the Furauto branches in the city or in the community of Castilla-La Mancha. Having your rental car at the Albacete train station is especially convenient since you will be able to move freely from your arrival in the city.
Enter our rental car comparator and find the vehicle you need in the place that best suits your trip.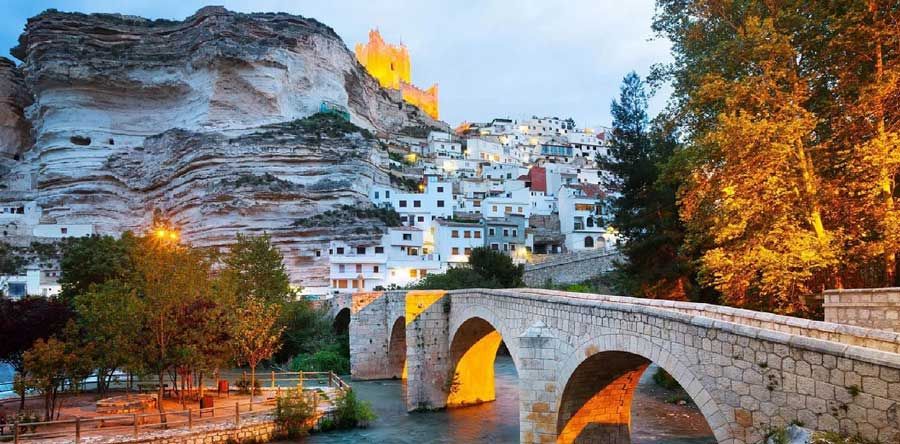 How much does it cost to rent a car in Albacete?
The price of a rental car in Albacete depends on the characteristics of the vehicle and the date of the reservation. Check our online comparator to benefit from the offers we have selected for you from Furauto.
Can I rent a 7 seater car in Albacete?
Of course you can. You only have to use our car rental comparator or call us by phone to make your reservation. We recommend you to do it in advance so you don't have problems with availability.
How is the traffic in Albacete?
Generally, you will have no problem driving your rental car in the center of Albacete. However, there may be traffic jams at the entry and exit points of the city. We advise you to avoid the A-31 both early in the morning and late in the afternoon if possible.
Tolls to take into account when traveling with your rental car in Albacete
Near Albacete you may come across the AP-36. The Madrid Levante highway starts in the town of Ocaña in Toledo and ends in the municipality of La Roda, in Albacete.
Parking your rental car in Albacete
Booking a cheap car rental in Albacete is one of the best ways to get around the city and its surroundings. The center of Albacete has ample regulated parking areas so parking your vehicle will be a simple task. The so-called blue zones are active from Monday to Friday from 09:00h to 14:00h and from 16:00h to 20:00h. Also on Saturdays not public holidays in the morning.
In Furauto we recommend you to park your vehicle in one of the public or private parking lots in the city center.
Sightseeing in Albacete with your rental car
Still don't know how to take advantage of your cheap car rental in Albacete? Pay attention to the ten essential visits that we show you below:
Cathedral of San Juan Bautista: Although it dates back to the 16th century, its construction was not completed until the 20th century.
Religious temples: You can also visit the churches of Nuestra Señora del Pilar, Virgen de los Llanos, Fátima, San Francisco de Asís, Santa Teresa or the Oratorio de San Felipe Neri.
Teatro Circo: There are only five other 19th century buildings with these characteristics in the world (Lisbon, Braga, Porto, Paris and St. Petersburg). Inaugurated in 1887, it is unique in our country.
Pasaje Lodares: An example of 20th century modernist architecture, it is located between Calle Tinte and Calle Mayor.
Calle Ancha: The golden mile of Albacete houses the Gran Hotel de Albacete, the Casas de Cabot, the Montecasino and the buildings of some of the main banks.
Plaza del Altozano: Here is located the Palace of Justice of Albacete, the seat of the High Court of Justice of Castilla-La Mancha, the Capitol Cinema, the Bank of Spain and the Municipal Museum of Albacete.
Municipal Museum of Albacete: It is possible to find it in the old City Hall.
Museo Municipal de la Cuchillería: It is located in what was formerly known as the "Casa de Hortelano".
Posada del Rosario: Although the construction dates back to the 16th century, it was 200 years later when it began to be used as an inn. It has been declared a historic-artistic monument.
Green areas: Stroll through the Abelardo Sánchez park (the largest in Castilla-La Mancha), the Fiesta del Arbol park, the Lineal park or the Jardinillos park.
Get to know the Province of Albacete by Car
Alcalá del Júcar, Alcaraz, Almansa, Ayna, Chinchilla de Montearagón, Liétor, Letur and Tarazona de la Mancha are other destinations that you can visit nearby with your rental car. If you like nature, don't miss the source of the Mundo river.