In Furauto we work to offer our customers the cheap car rental in Formentera that best suits all types of transportation needs. Pick up and drop off your car benefiting from our network of offices in the Balearic Islands in a simple and economical way.
Discover Formentera by rental car
Welcome to Formentera, an authentic island only accessible by sea. This is the least populated of all the Balearic Islands with only 12.000 inhabitants. It still preserves in its towns and its people that aroma of tradition, peace, tranquility and well being.
From Furauto we want you to enjoy a full experience in this paradise. For this reason, we offer you a cheap car rental service in Formentera so that nothing can stop you during your trip, the Pitiusas islands are full of surprises!
One of the biggest attractions of this island is the excellent conservation of its beaches. The posidonia meadow that surrounds the island is a gift of nature that cleans the coast leaving an impressive landscape of transparent waters and miles of white sand.
And if you are looking for more than just beach tourism, you should know that history also has its place in this magical place. It is believed that there were already settlements in Formentera in the Bronze Age. The oldest vestige found is the megalithic tomb of Ca na Costa, built in approximately 1,700 BC.
There is a Formentera for each of us, book your car with Furauto and discover its wonders!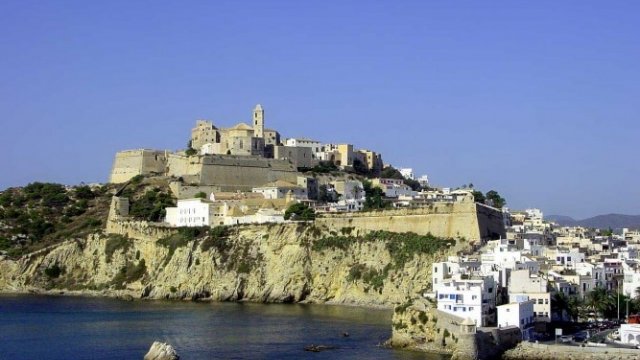 How to get to Formentera
The only way in and out of the island of Formentera is the Port of La Savina. Normally, visitors access from the port of Ibiza. However, in high season it is also possible to travel from Denia.
Why use Furauto's car rental service in Formentera?
Through our website you can rent your car in Formentera in just a few minutes and without paperwork. Compare prices, choose the characteristics of your vehicle and make your reservation without complications.
Our hiring conditions are simple and transparent. And remember that if you have any questions or queries you can always contact directly with Furauto team members via telephone.
Where can I pick up and drop off my rental car in Formentera?
With Furauto you can pick up and drop off your rental car at various strategic points of the island, such as the port of Formentera. Check our search engine and find the place that best suits your travel itinerary.
What is Furauto's Full/Full service?
With Furauto's Full/Full service you won't have any unpleasant surprises with the fuel of your rental car. You will pay only for the fuel you use.
Parking your rental car in Formentera
Parking your rental car in Formentera can become an ordeal, as tourism has caused that there is no space to park. For this reason, the City Council has regulated the traffic in the area of the Port of La Savina. If you want to park in this area, you should know that there are blue and green zones (special for residents). Our advice is to be patient and try to leave your car in less touristic areas.
Sightseeing in Formentera with your rental car
So that you can tour Formentera in your rental car with peace of mind and leave nothing to visit, we are going to reveal the Top 10 of the places you can not miss.
San Francesc Xavier: The capital of the island. Go to the Plaza de la Constitución to visit the Town Hall and the Church of Sant Francesc Xavier.
Sant Ferran: Travel to Sant Ferran de Ses Roques to visit its church and enjoy an authentic hippie atmosphere in La Fonda Pepe and its genuine pubs.
Es Pujols: Tourist area of Formentera. Here is the only urban beach of the island.
Es Caló de Sant Agustí: Fishing village with pier and beautiful beaches and coves with crystal clear waters.
La Savina: Port area of the island, impossible to miss its hippie market on the harbor promenade.
El Pilar de La Mola: Go to the farthest municipality of the island to visit the Església de Nostra Senyora del Pilar, consecrated in 1784.
Flea market: One of the most famous hippie markets on the island is held in this same town. It takes place twice a week.
Lighthouse of La Mola: Jules Verne was inspired by this lighthouse to write his work Hector Servadac. That is why there is also a monument here in honor of the writer.
Solitary beaches: Do not miss two beaches that are still almost unknown and maintain the air of the real Formentera, Punta de sa Pedrera and Ses Canyes.
Gravel beaches: Of its 22 beaches, only three are not sandy. Discover Es Caló des Morts, Es Caló d'en Trull and Cala en Baster. And, for the more daring, the nudist beach of Tramontana.